Well, I told myself I'd do blog posts about Comic-Con while it was going on. I even have an app on my phone that enables me to do blogging on the go. But here I am, nearly two weeks after the first day of the con, doing my post. Blame Facebook -- it's so immediate that it's the perfect place to do on-the-spot comments. Also blame the exhaustion of dealing with an extremely crowded con.
And it seemed more crowded this time than usual. That makes no logical sense, as the attendance this year was officially the same as last year due to capped attendance and a sell-out of memberships. But we were more conscious than usual of the masses. That was particularly true in the dealers' room at the very beginning (preview night) and end of the con, when no other programming was going on and just about every attendee was jammed into the enormous space. The other was when we would wait in line for one of the major presentations in Room 20 (the next largest room, after Hall H) and would not get into it -- despite spending a couple of hours in queue.
This was the second year that we did not even attempt to get into Hall H, where the big movie presentations that make the news are put on. Folks were literally camping out in line the night before to get into the Hall and stay put for the day. That was particularly true on Saturday, the day both Harrison Ford and Daniel Craig showed up as surprise guests, and the cast of the Avengers movie attended the Marvel Films panel. Attending a Hall H presentation often means attending nothing else for the day, so we didn't want to make the time investment.
Here are some of the highlights of our con experience -- as usual, with photos.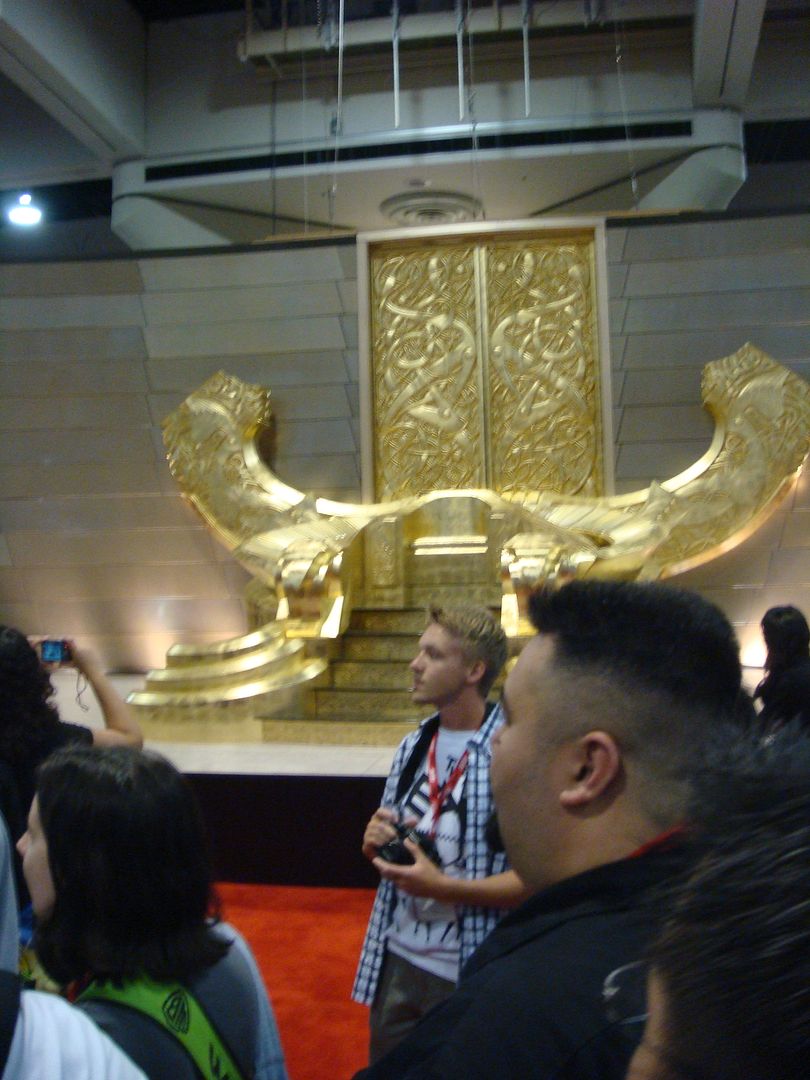 Preview Night was our chance to check out the booths that we could get to in the limited amount of time (and movement space) we had. Definitely the most impressive booth we saw was Marvel's. The booth displayed various pieces from upcoming Marvel films throughout the con, but the most spectacular was Odin's throne from next year's Thor movie.
Also impressive was Stan Winston Studios' booth, which featured not only a life-size giant robot from AVATAR, but also a set of armors from both Iron Man movies.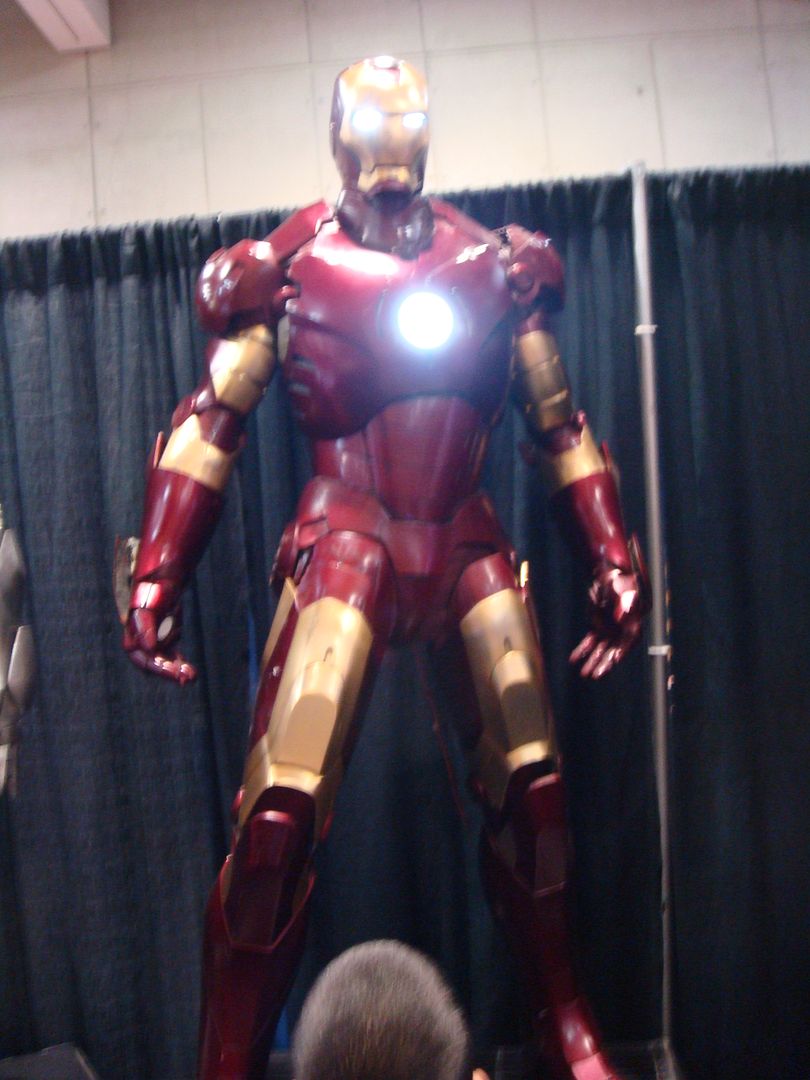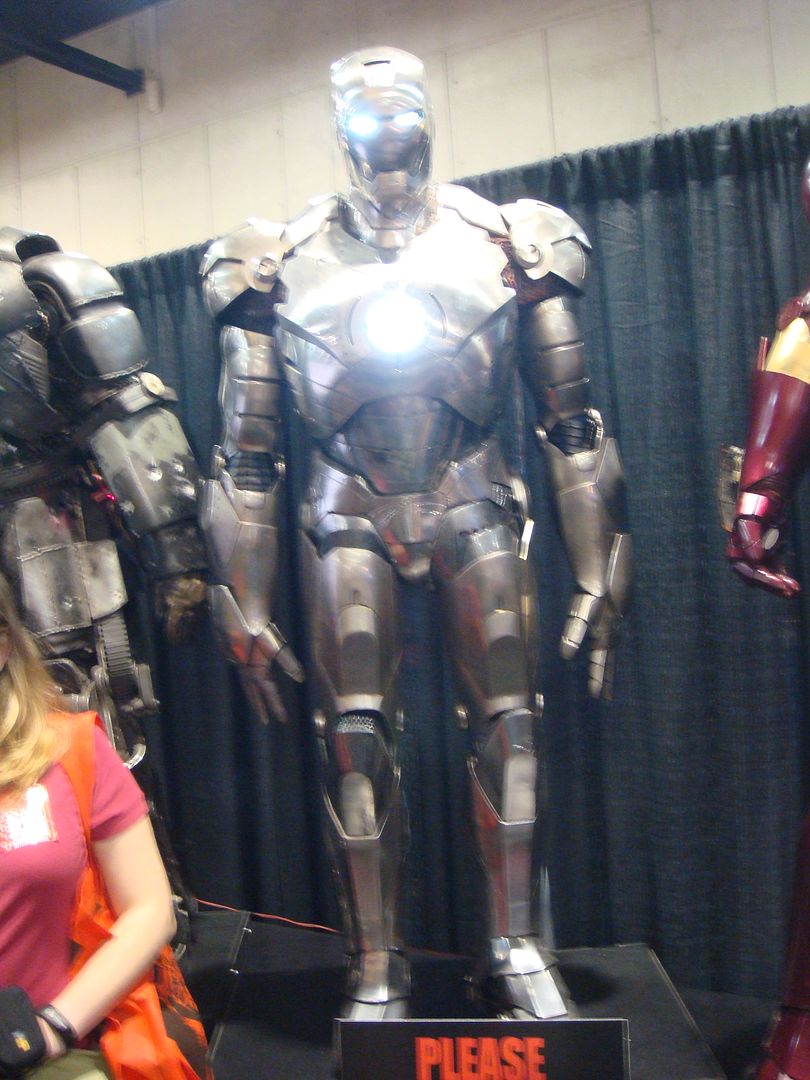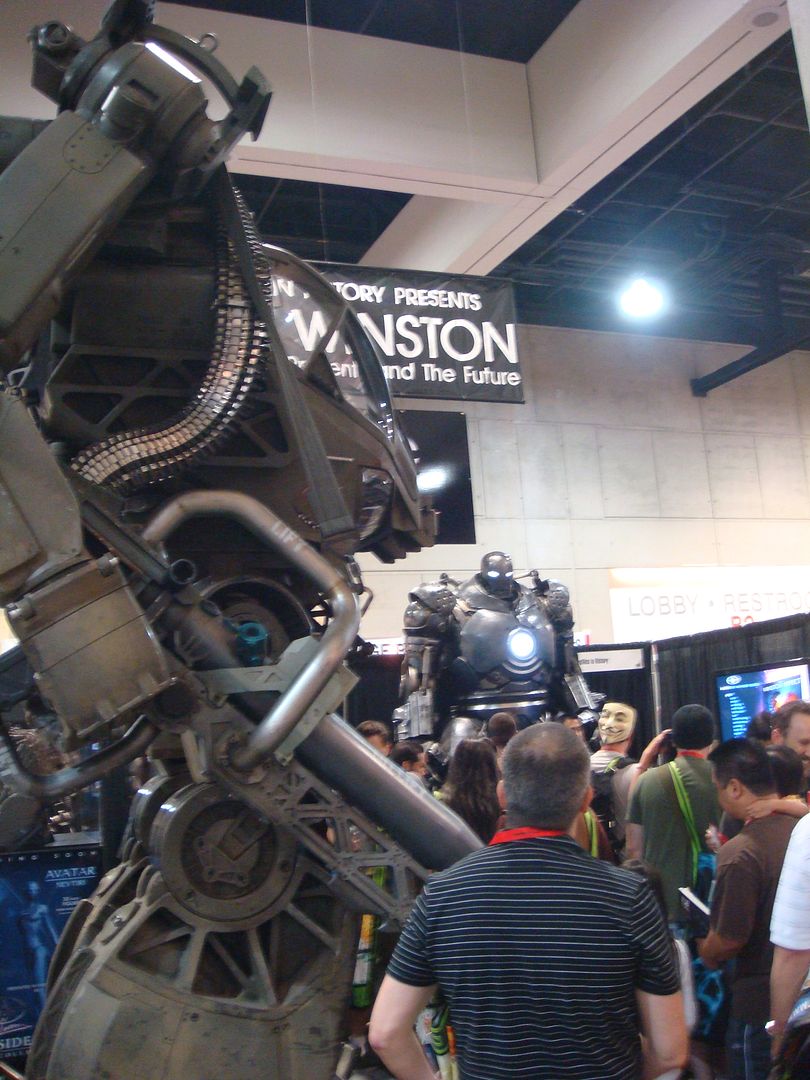 Not to be outdone, the Gentle Giant booth had a life-sized Na'vi female from AVATAR.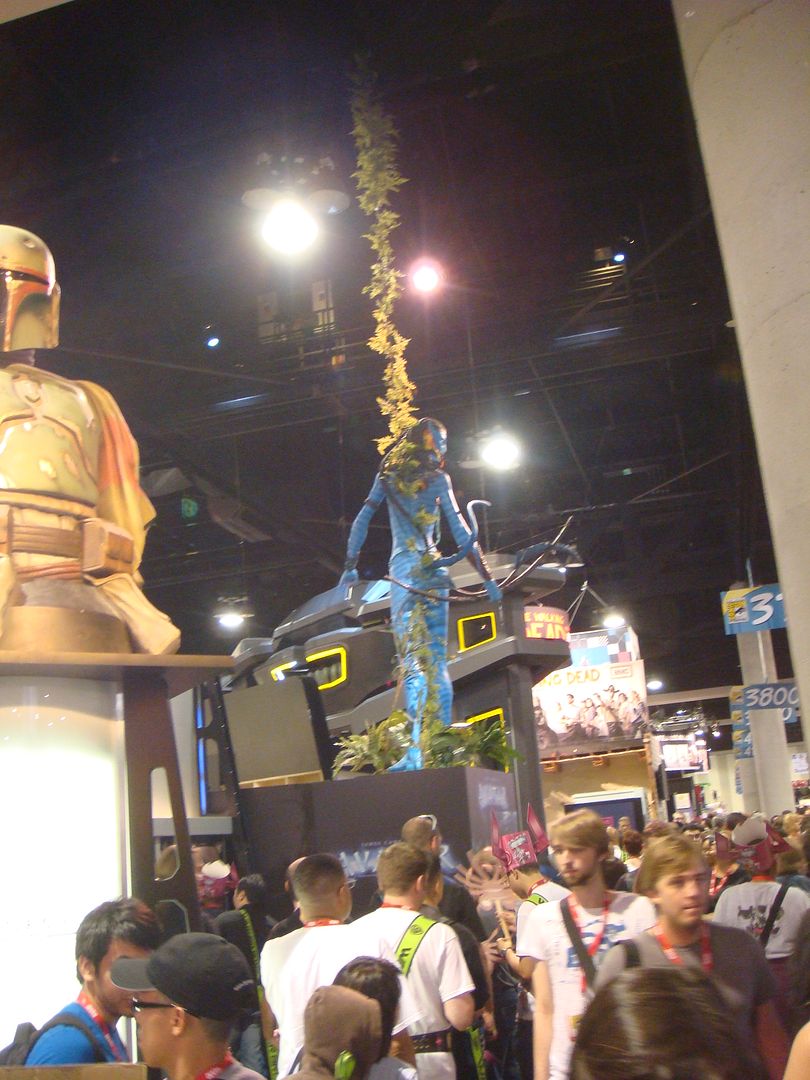 And a huge Green Lantern power battery sat in front of the Mattel booth.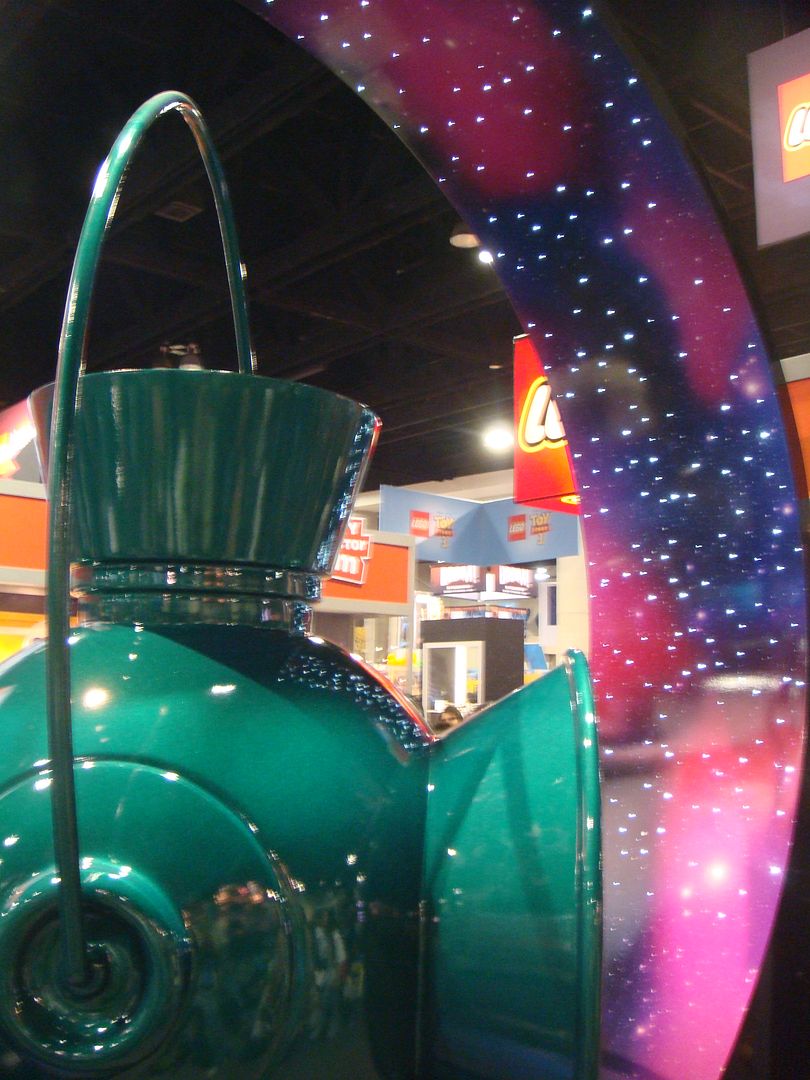 I also found the Square Enix booth impressive. The Japanese publishing/game company had showcases devoted to various properties it had licensed, or was trying to license, to the U.S. (such as BLACK BUTLER, HEROMAN, and DURARARA) that included shikishi sketches apparently done just for the con: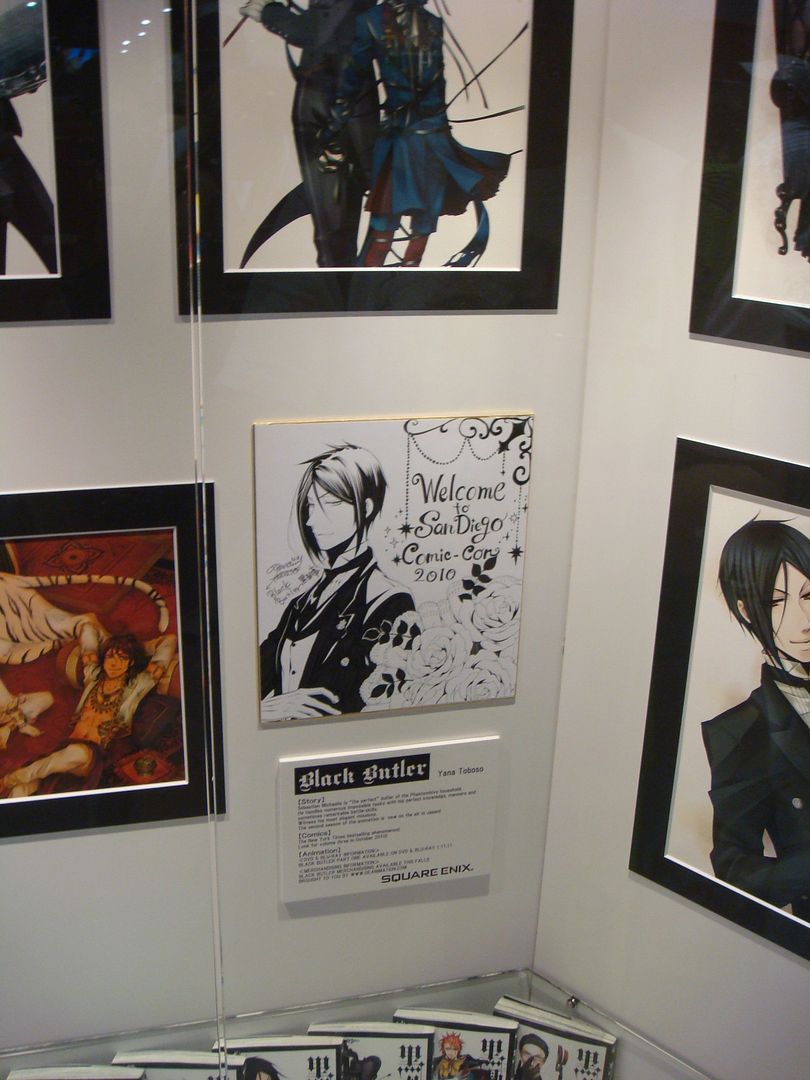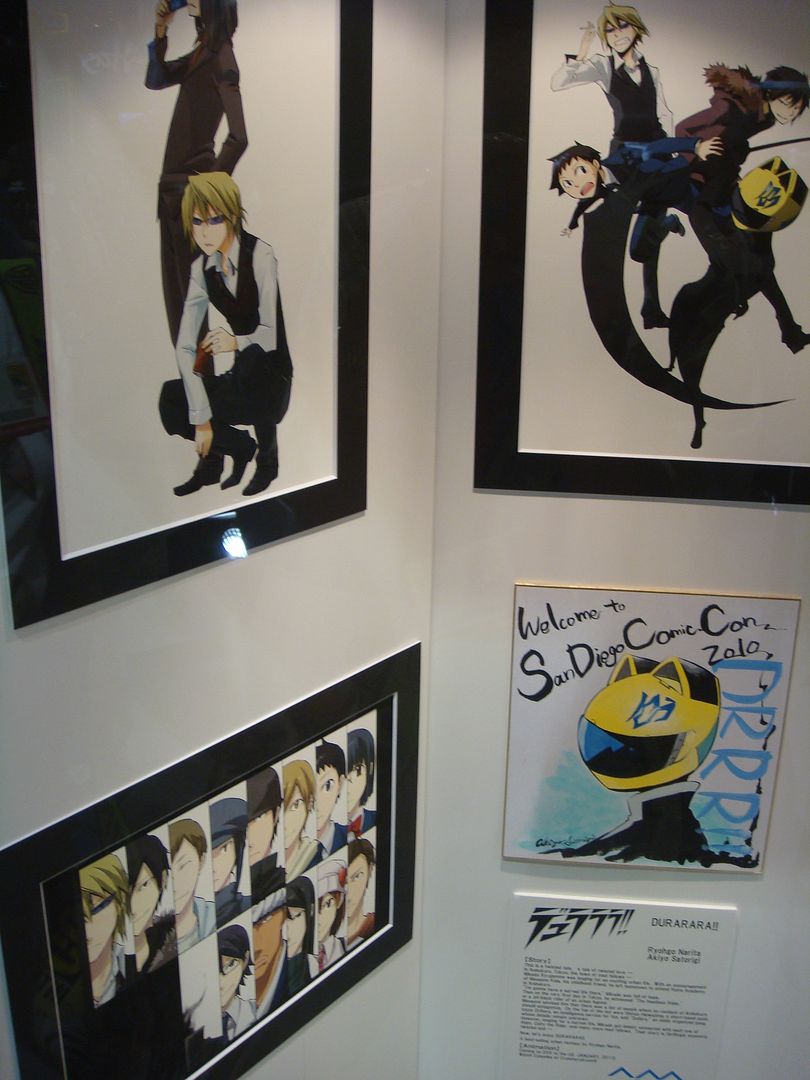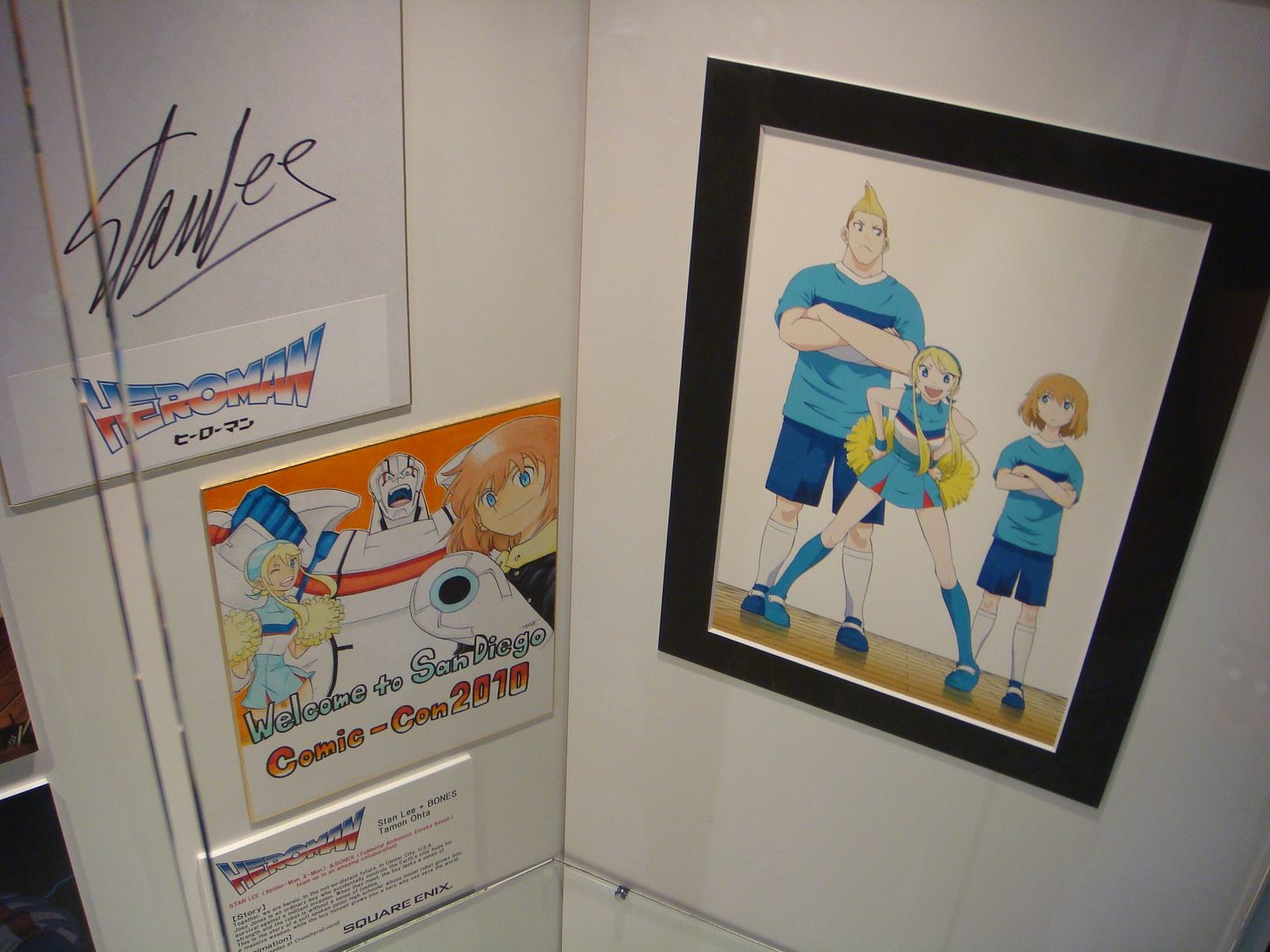 Promotion for movies and TV has reached gigantic proportions at Comic-Con, as this supergraphic on the wall of the Hilton next to the convention center shows: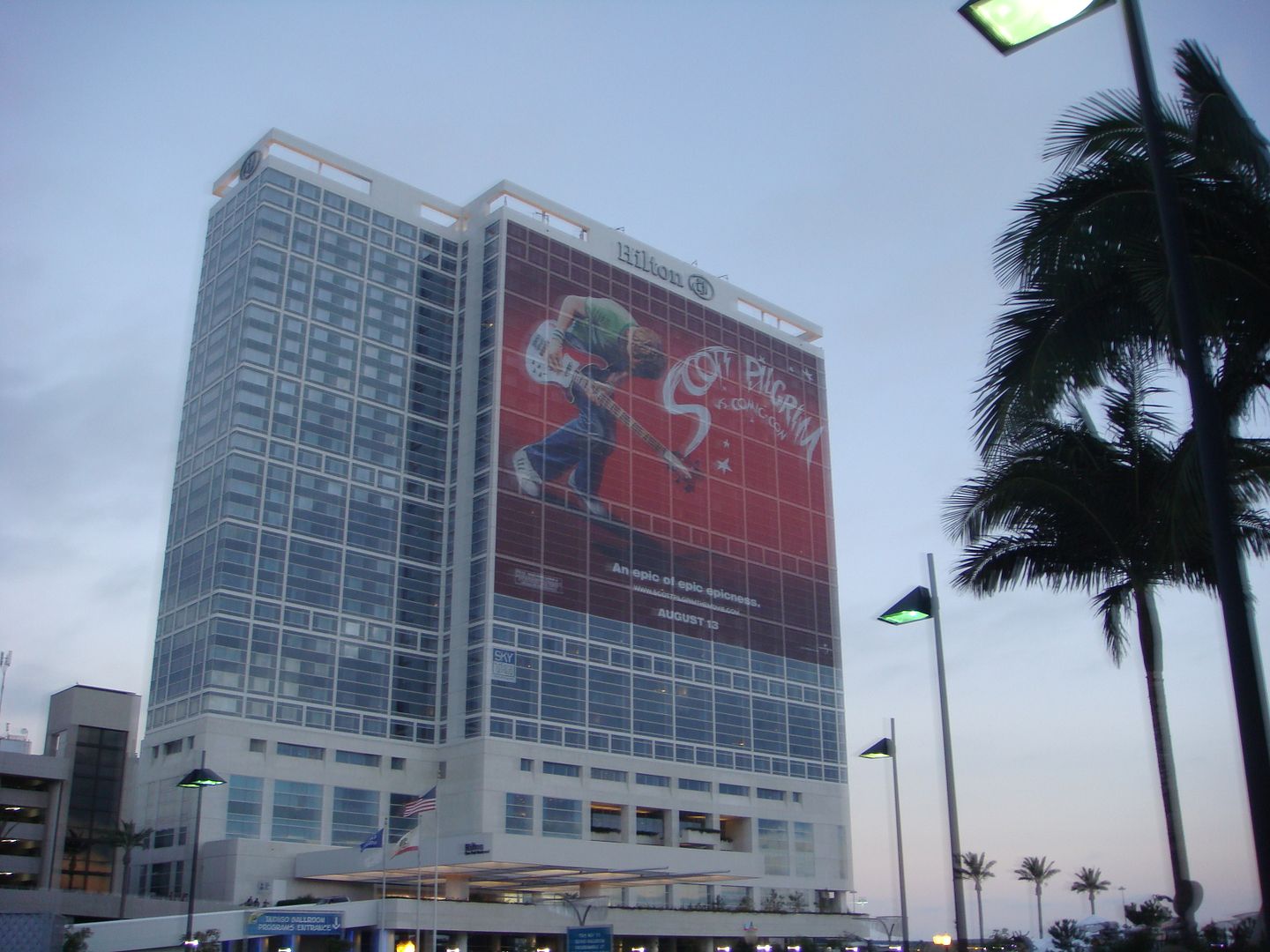 Or the whole helicopter that was apparently landed near the convention center to promote BATTLE: LOS ANGELES: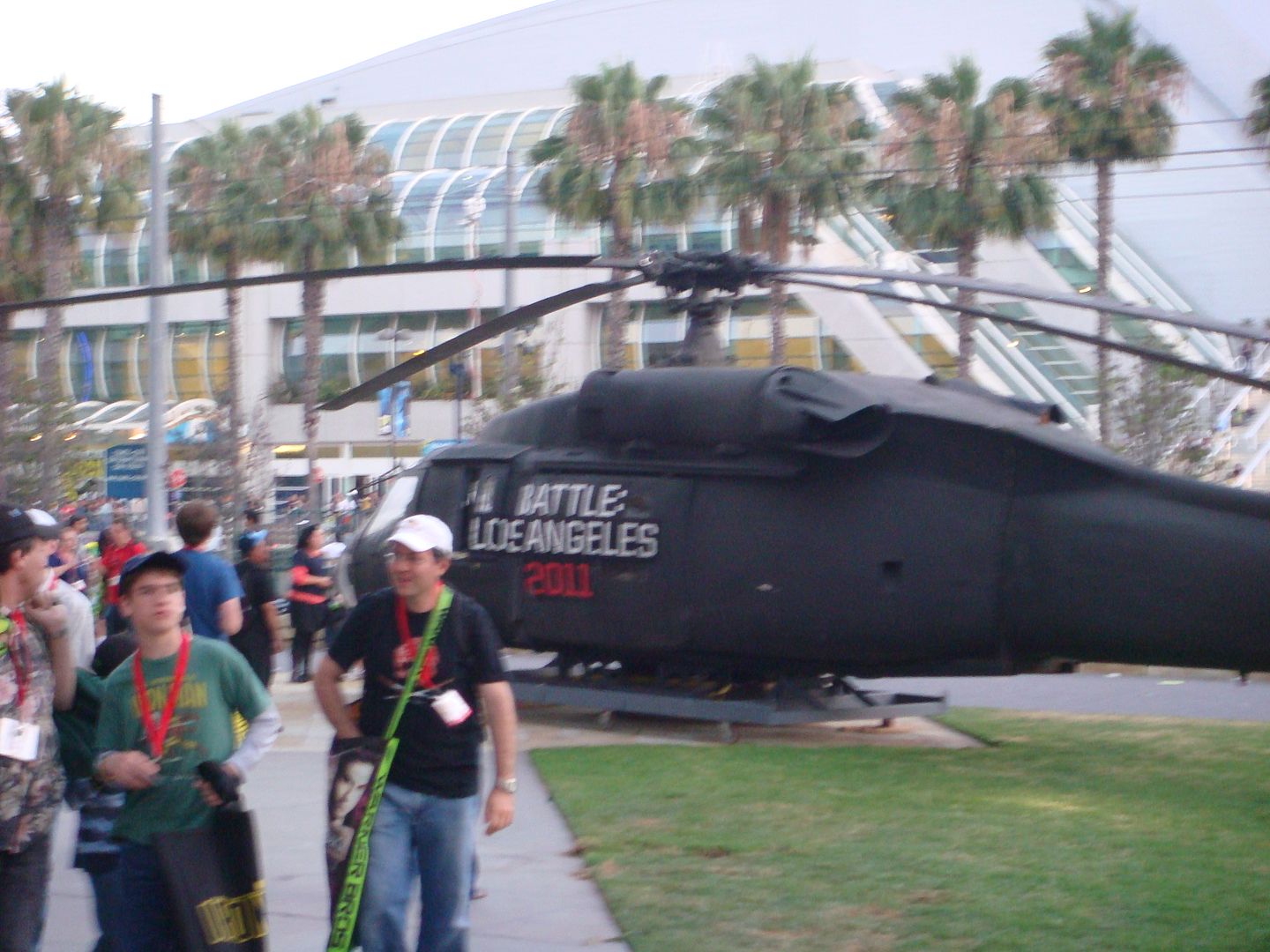 Thursday started with the spotlight on a guy who had never been to Comic-Con before, but who fit right in: Composer Danny Elfman. He told wistful tales of when he was a child, and would inject flies with radioactive isotopes. (Really.)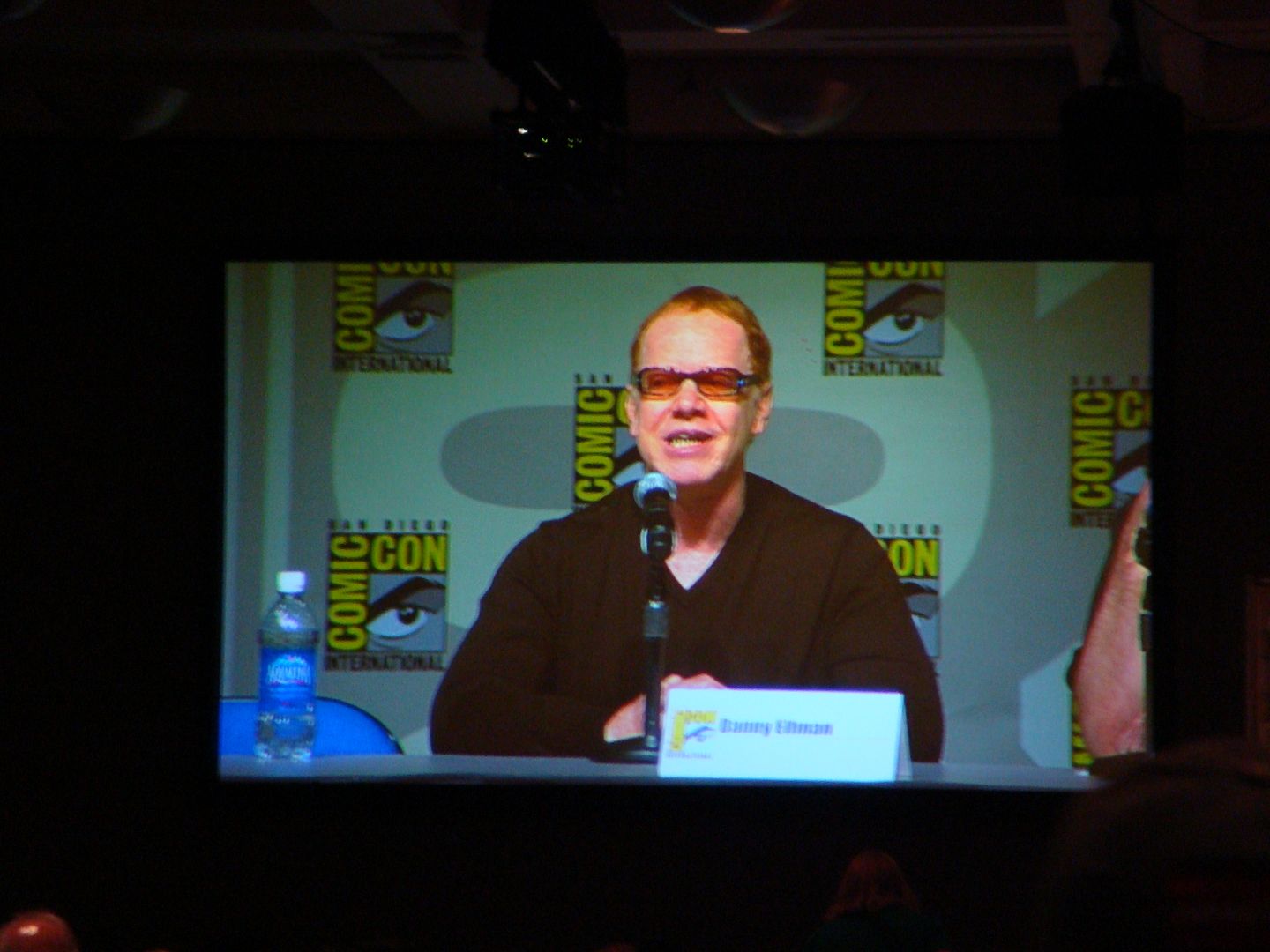 Thursday also brought the BURN NOTICE Panel -- one of the few big Industry panels we got into -- which featured not only series regular Bruce Campbell, but also creative folk such as frequent episode director(and occasional guest-star) Tim Matheson.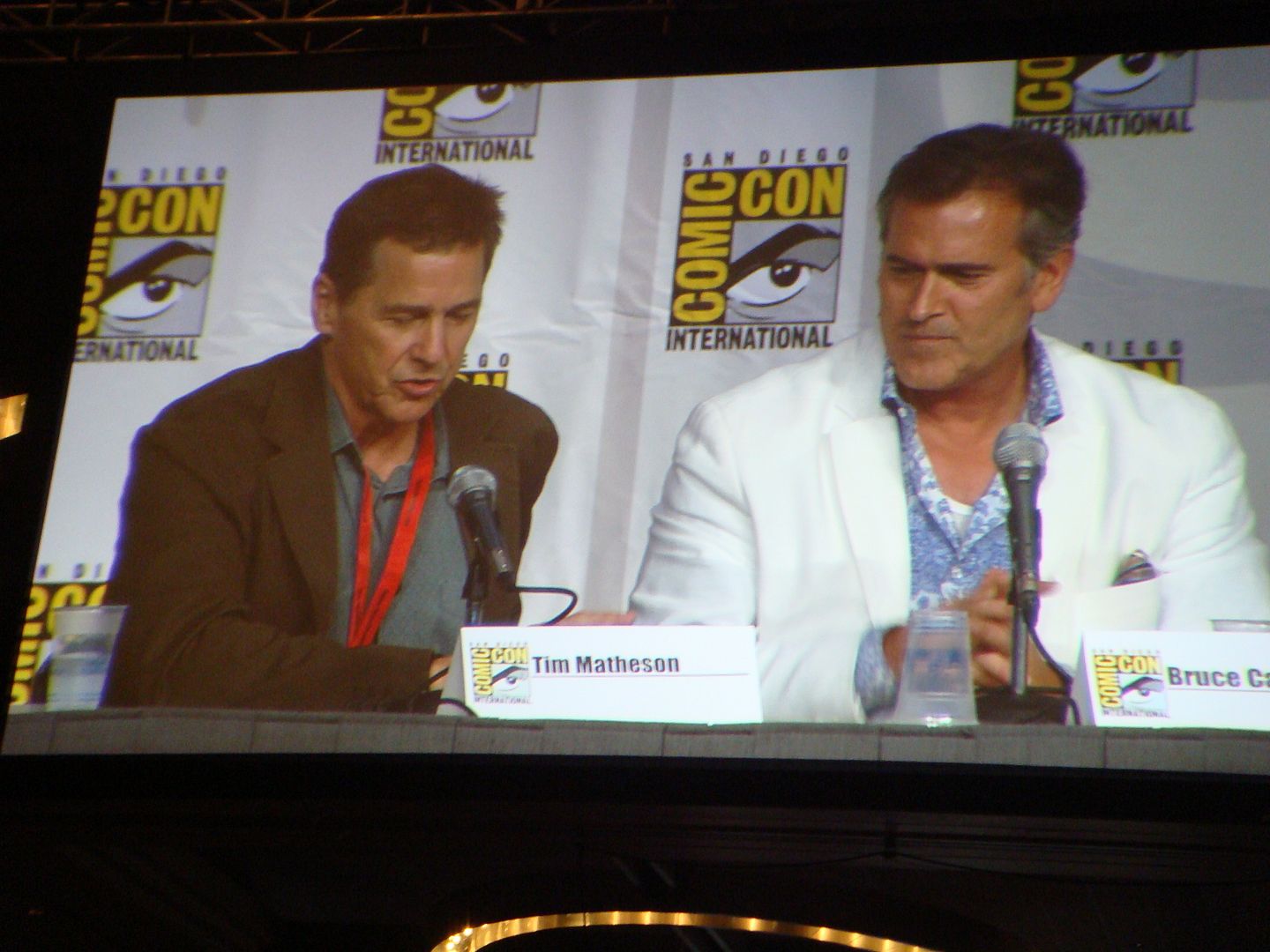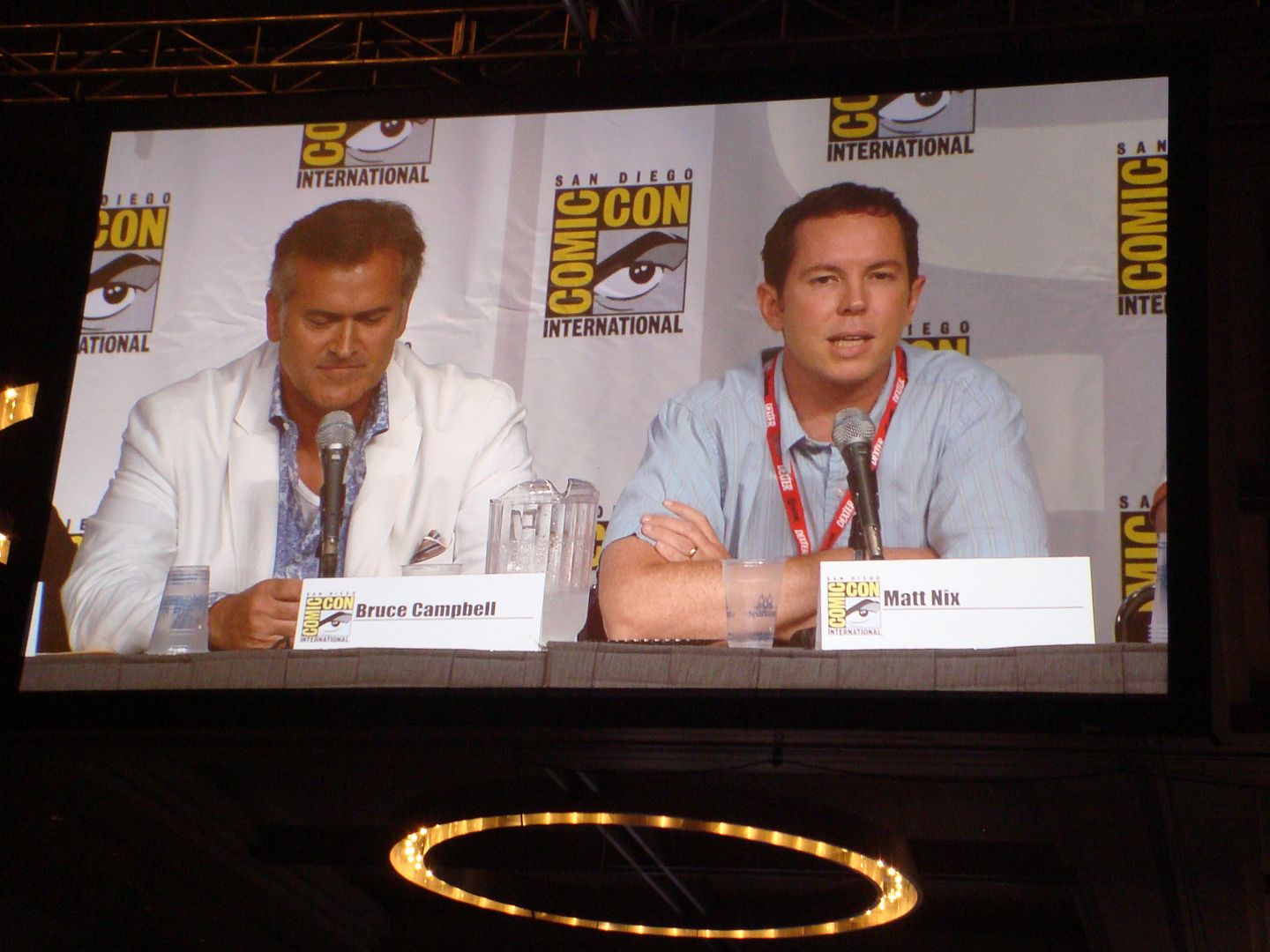 The highlights on Friday included the panel for BATMAN: BRAVE AND THE BOLD, which featured voice talents Diedrich Bader (Batman) and John Dimaggio (Aquaman):
This fan-favorite series is rolling into its final 13-episode season. Production is ending as WB starts its next DC animated series, YOUNG JUSTICE.
Another highlight of Friday was the annual ritual of the media tie-in panel, moderated by my cousin Lee Goldberg: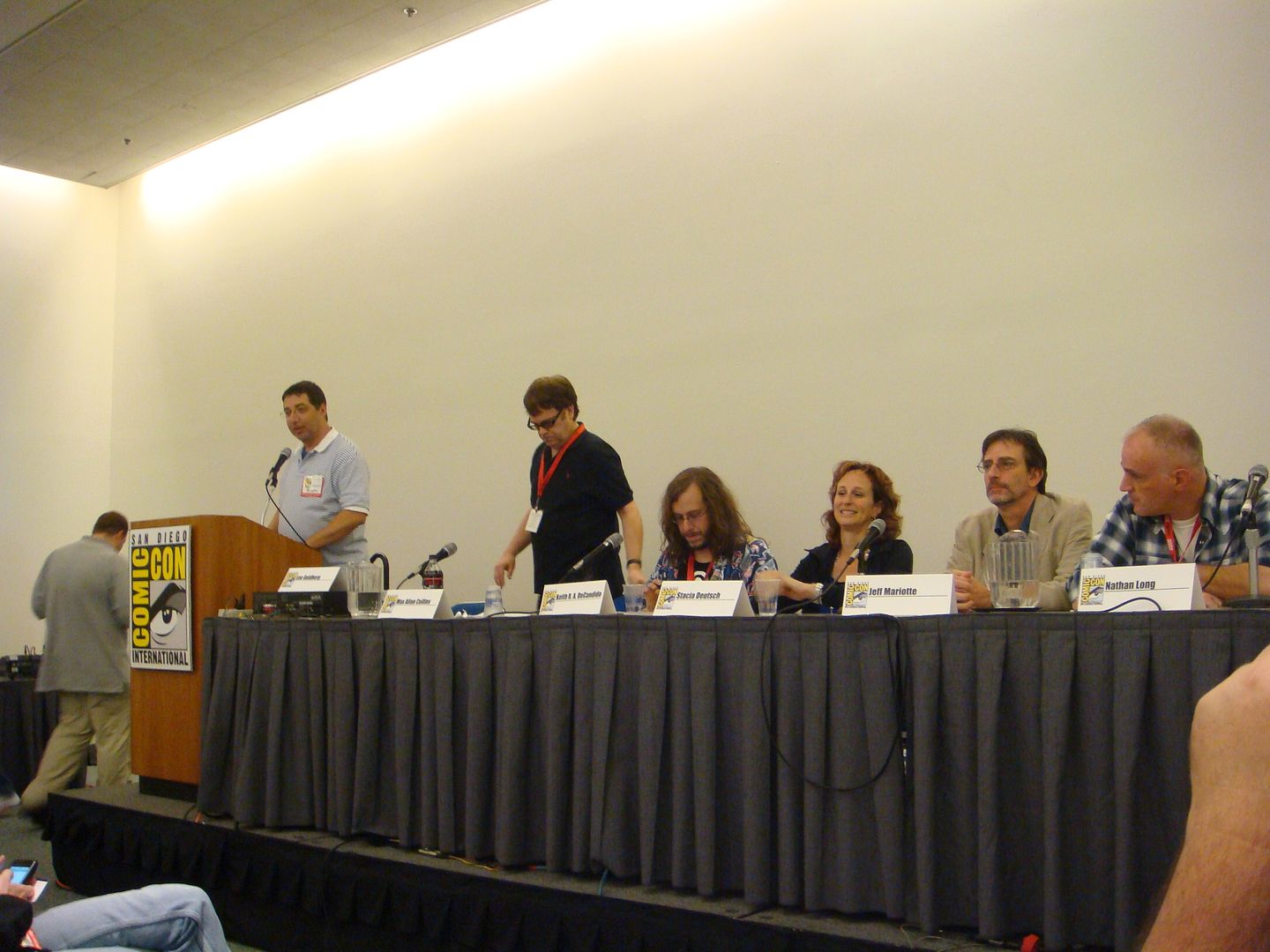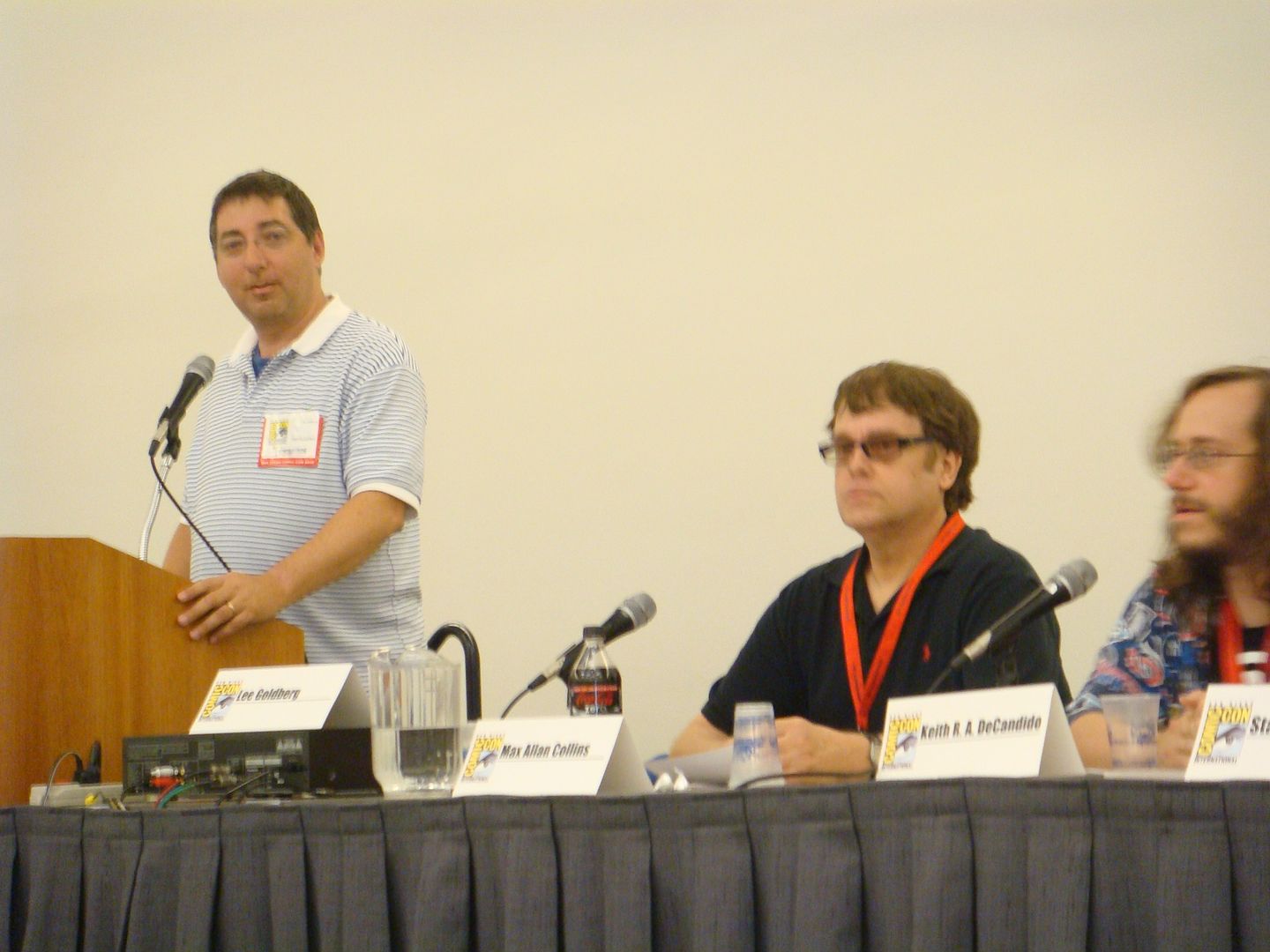 This time, the lineup on the panel included Lee's TV writing partner, Bill Rabkin.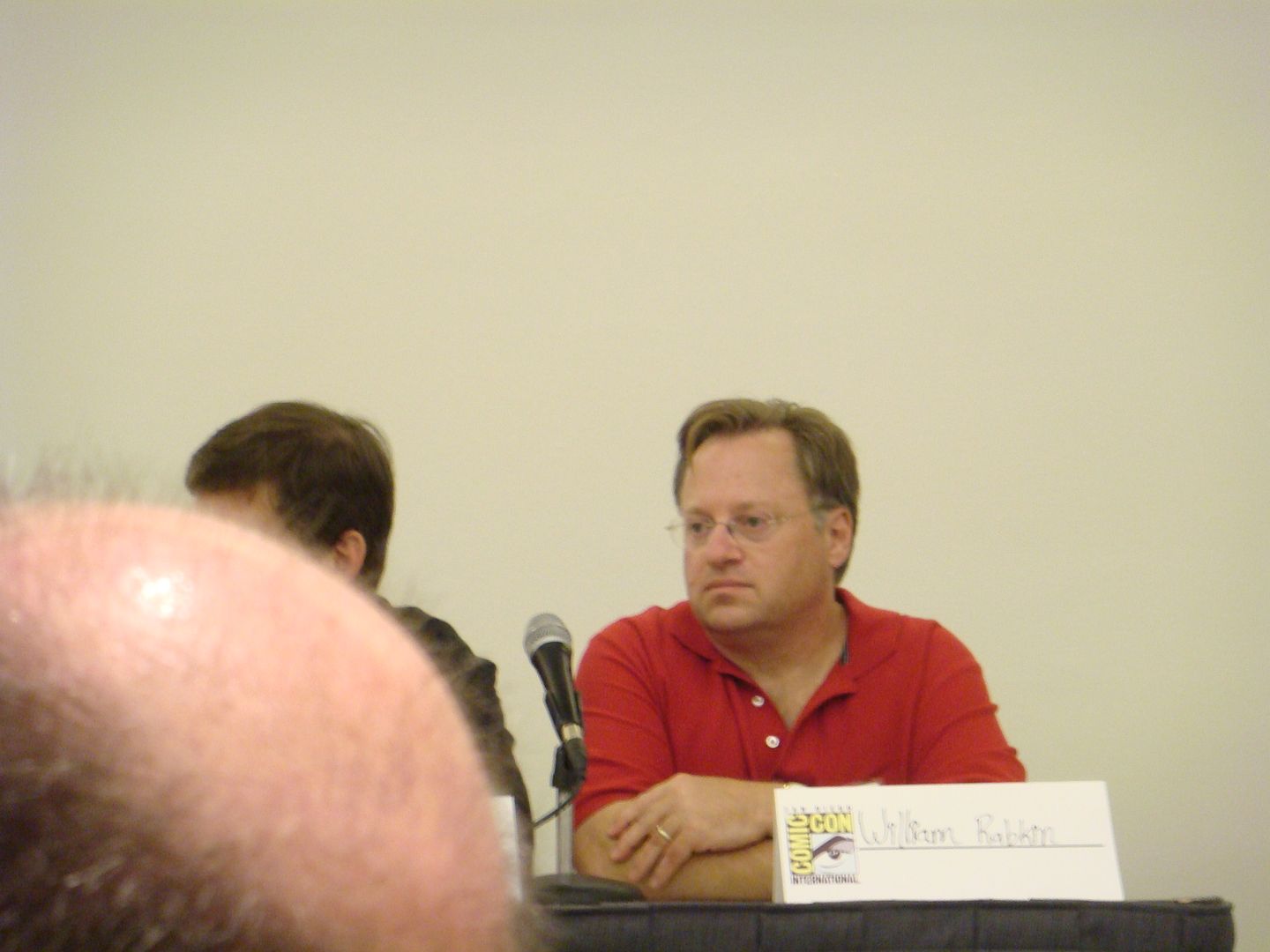 A guest present on several of the comic book panels we attended was Comic-Con special guest Neal Adams, who was promoting several projects including his current Batman comics maxi-series. Adams is that rare creative person who has both a big ego, and the talent to back it up.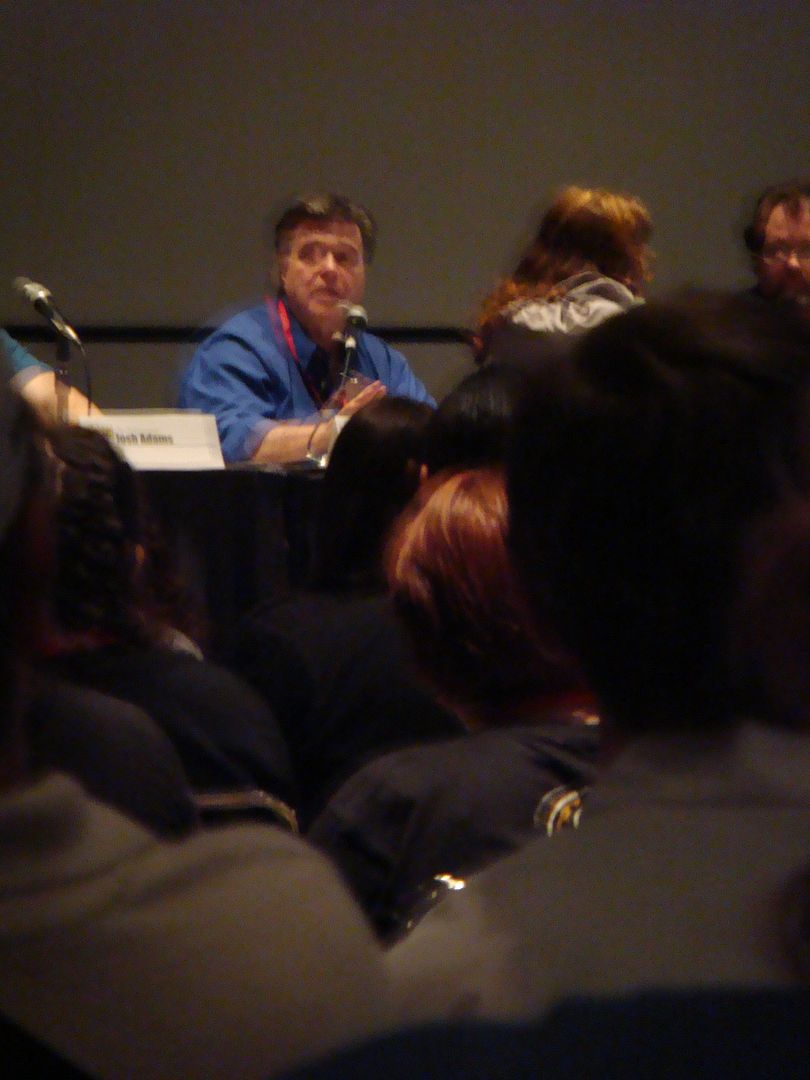 We finished up Friday with dinner at the Spaghetti Factory (a staple from previous cons, which went away for a while but returned last year); and the Eisner Awards, which featured celeb presenters such as Thomas Jane and the entire cast of the Scott Pilgrim movie.
Saturday was steampunk day for us.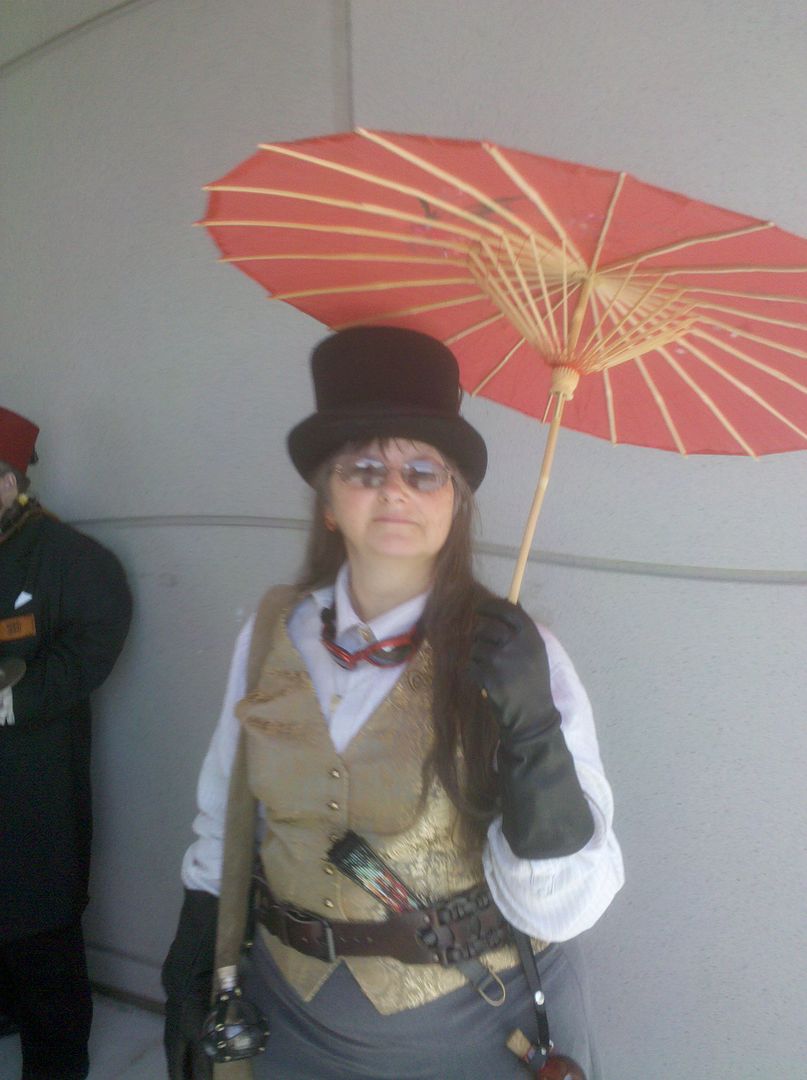 We donned our steampunk outfits and participated in the massive SP gathering at the back of the convention center.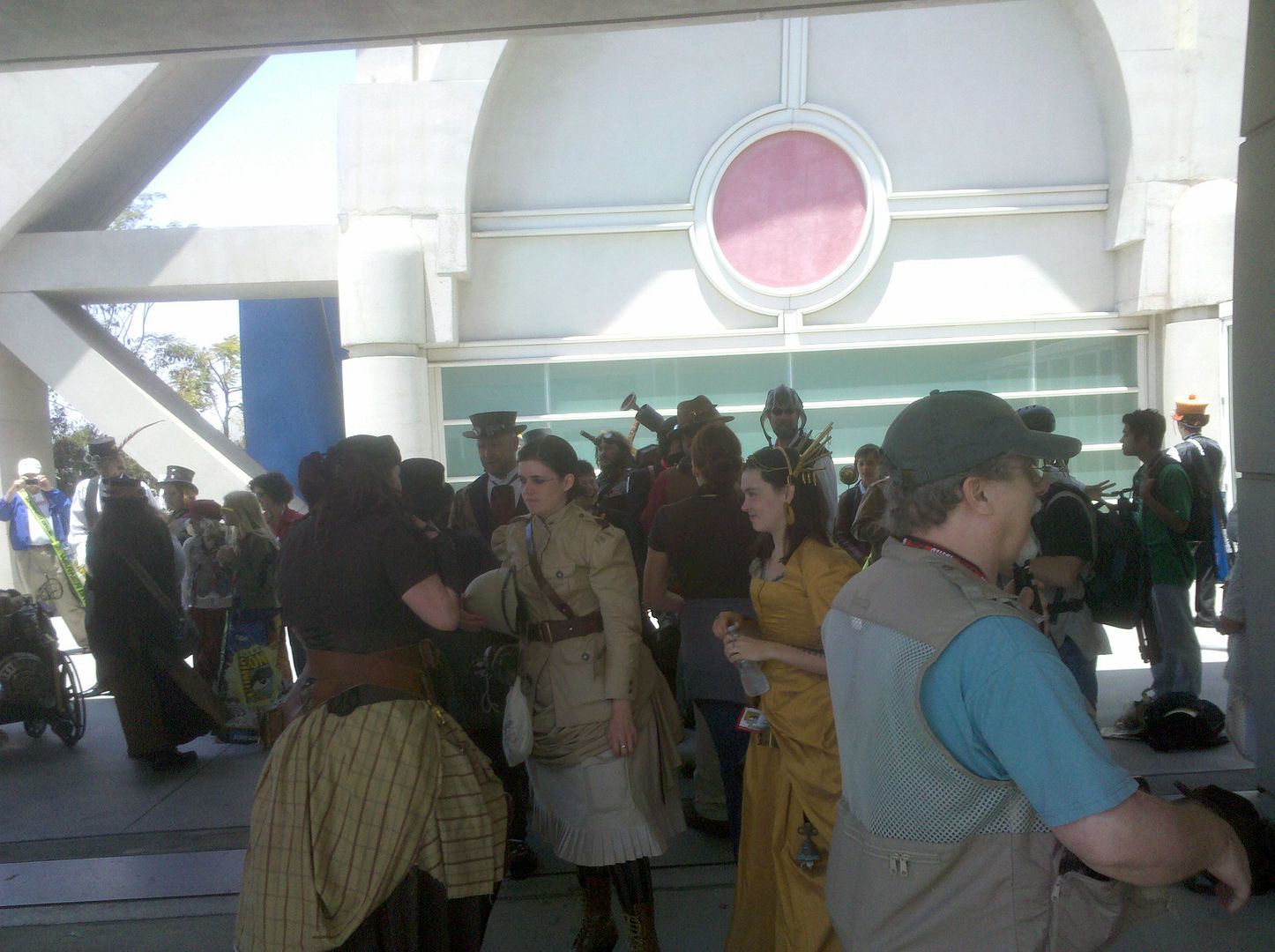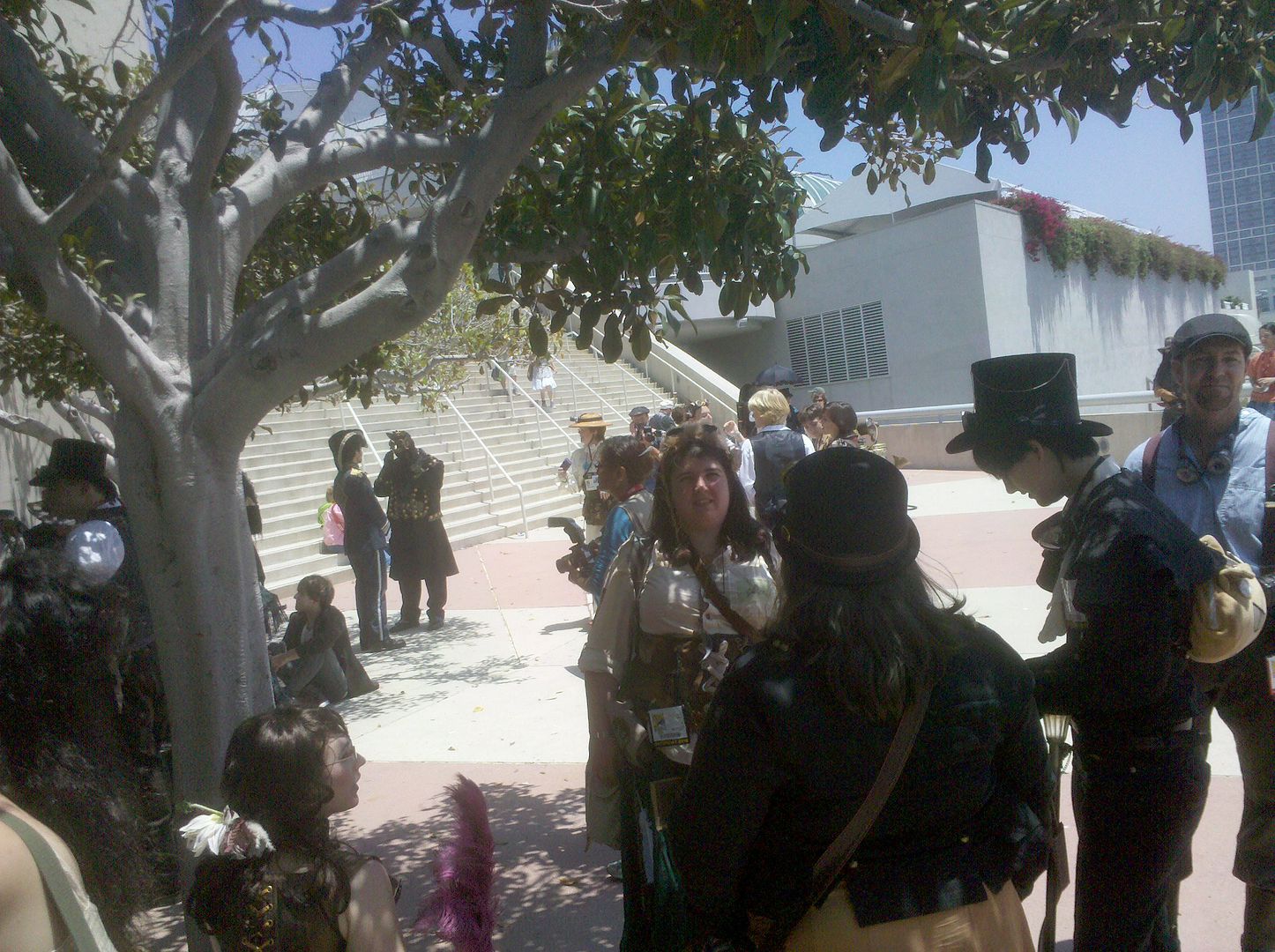 The gathering included a huge photoshoot that a representative from Guinness was there to witness, as the largest Steampunk photogathering yet.
After that panel, I was glad to get into the "can't miss" panel for me that year: A panel about Denny O'Neil and Neal Adams's revamp of Batman in the early '70s, featuring Adams and O'Neil (along with former DC publisher Paul Levitz):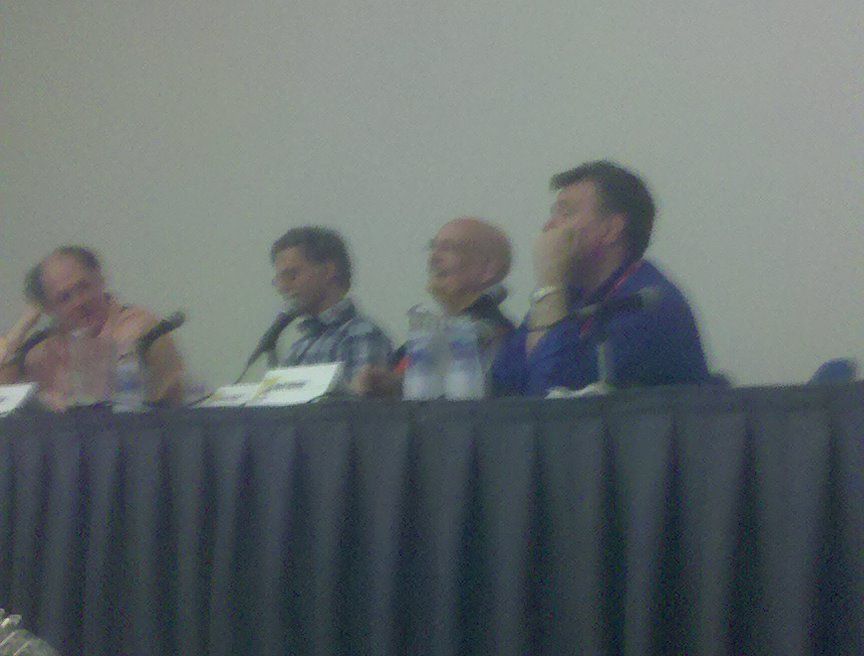 That evening, we left the convention center to go to a non-convention event: The League of Temporal Adventurers Gala, a steampunk party at the Queen Bee's club deep in downtown San Diego. Queen Bee's is a terrific party space, with an all-ages performance stage, a fenced-off over-21 area for beer and wine, and a separate espresso lounge where conversation is actually possible during performances. The attendees were treated to several talented performers.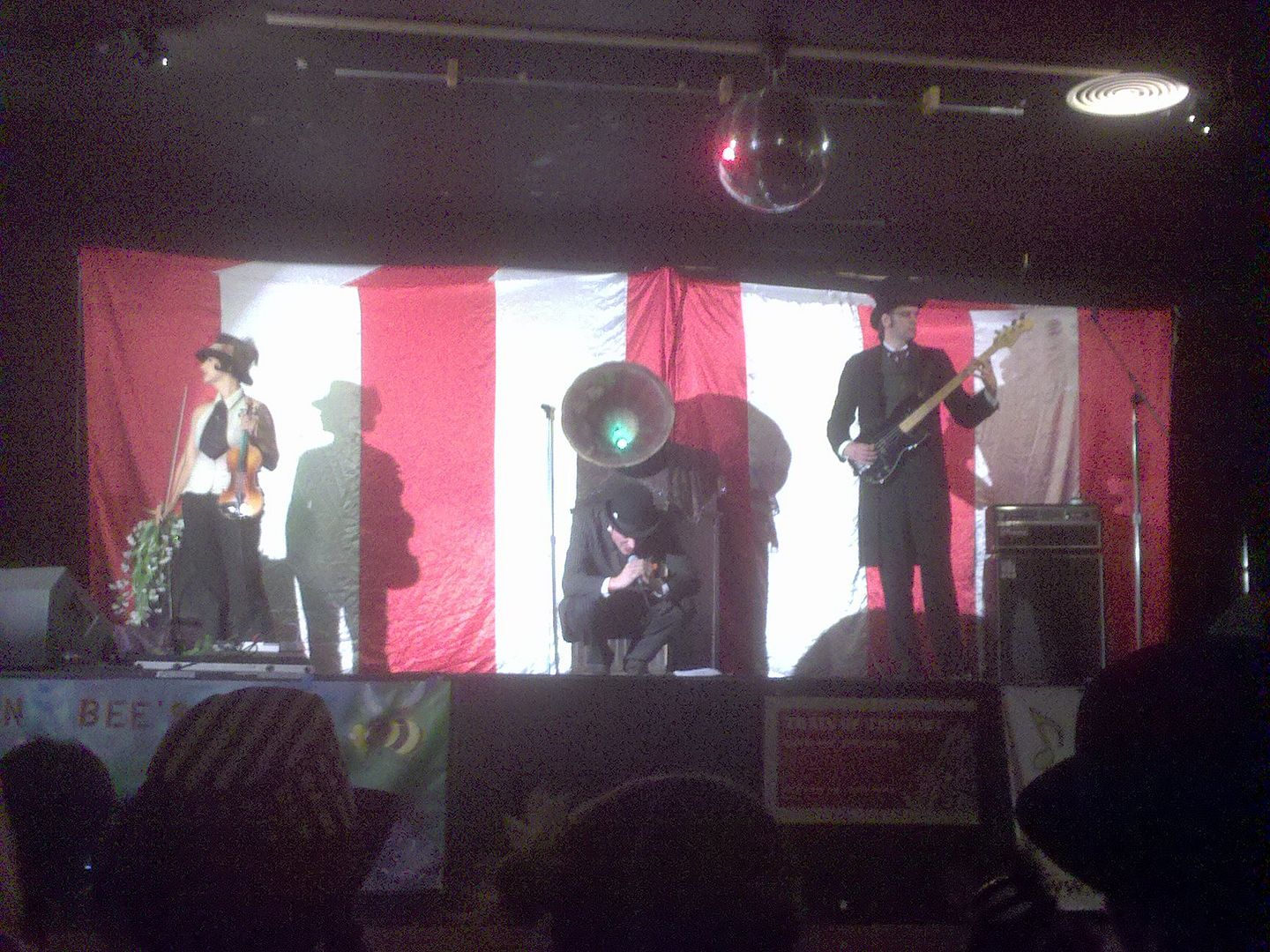 The climax was when prominent goth/humor musician Voltaire took the stage in a solo performance, and had the audience rolling on the floor with his hilarious performance.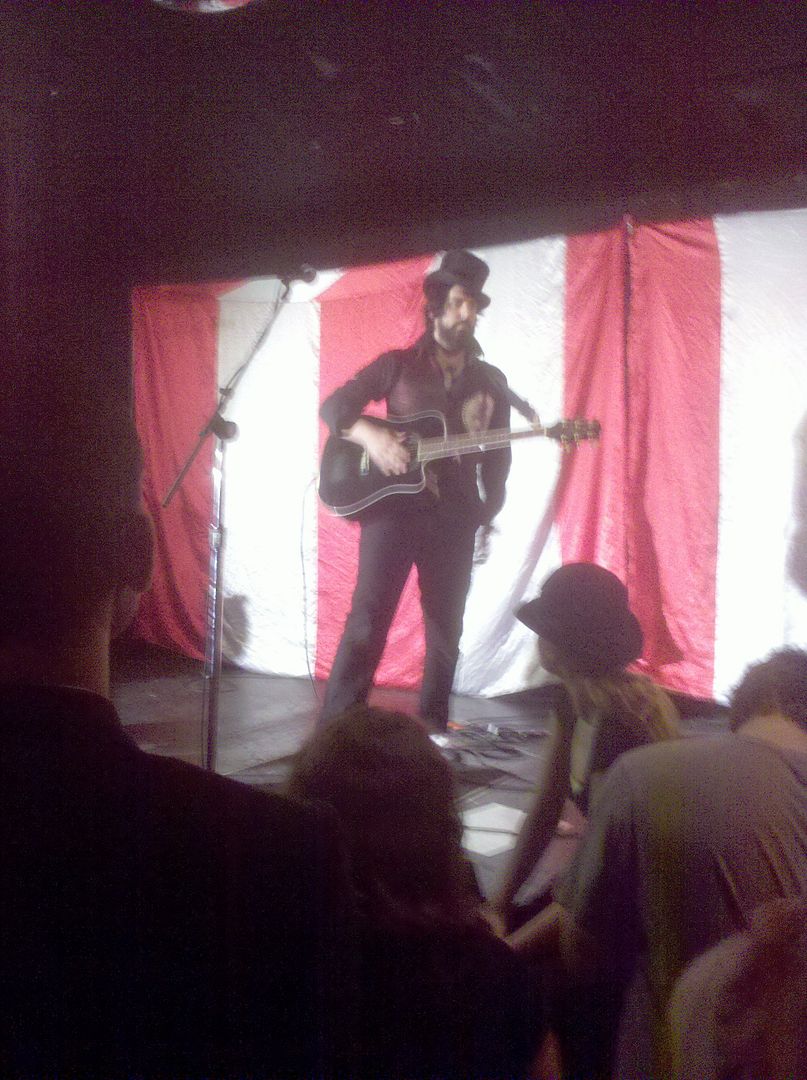 For his last song, Voltaire had several women from the audience join him onstage to sing backup: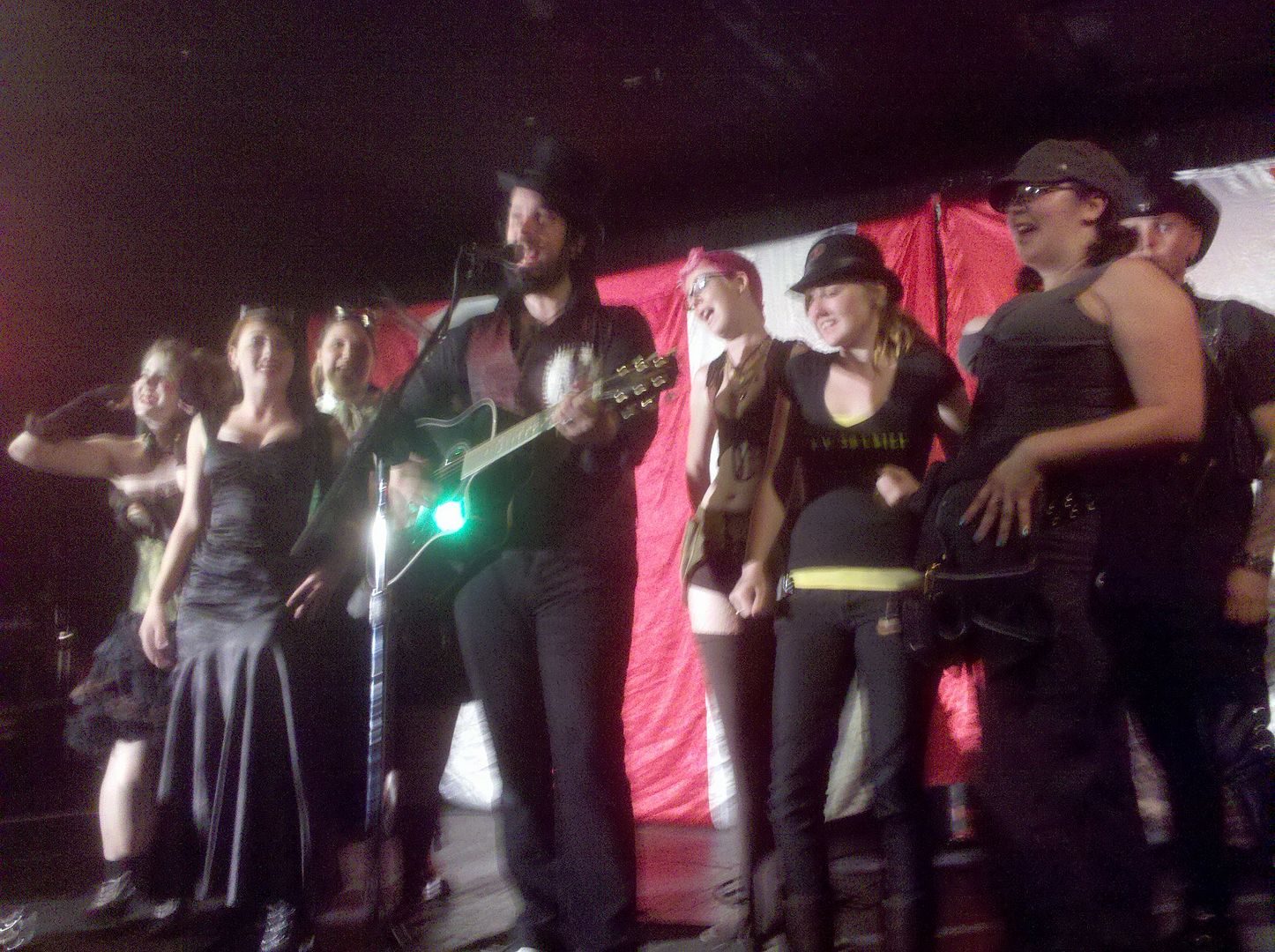 On Sunday, we packed up, went to a few panels (such as The Art of the Cover), had one last go at the dealer's room, and headed home -- where, amazingly enough, we got home before 11 pm.
Yes, Comic-Con can be a hassle, with its crowds and its hard-to-access super-panels. But contrary to rumors, it is still about comics; and it's still a lot of fun if you know how to approach it. We'll be back. We'd better be. On the last day, we bought our memberships for last year. And they are now way too expensive to waste.