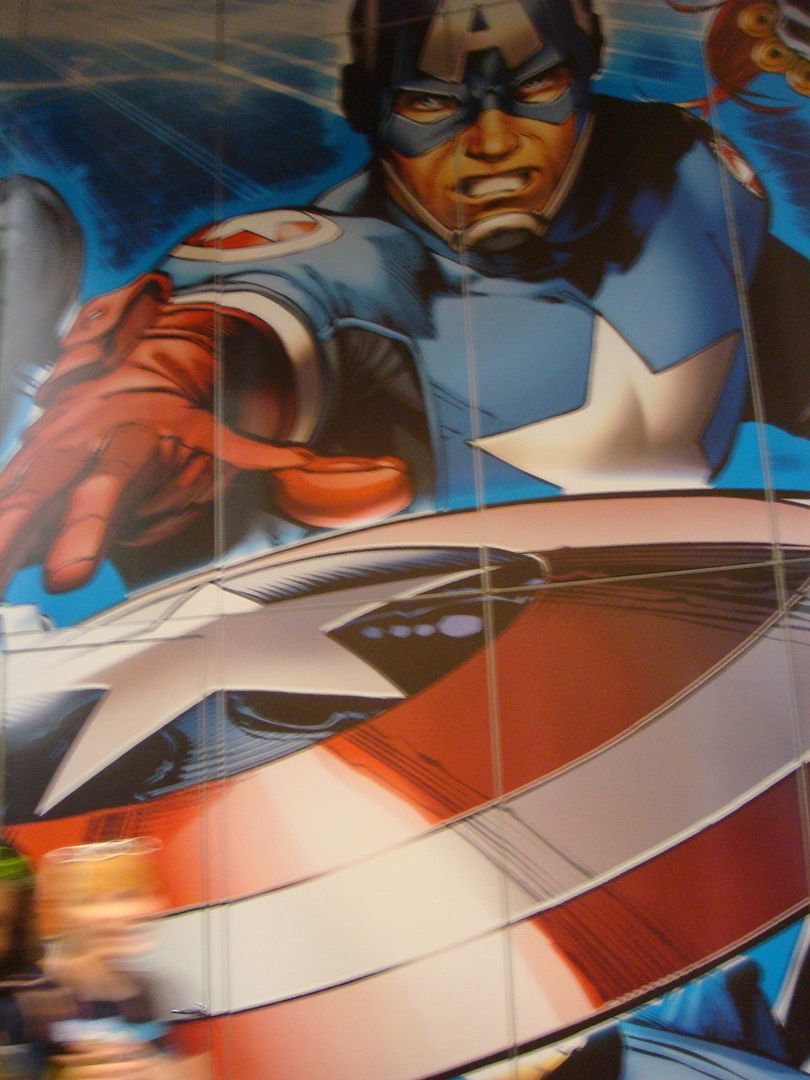 The two constants at Comic-Con International: San Diego -- much as in comics themselves -- are continuity and change. Sometimes, the two go hand in hand. For instance, at this year's Comic-Con, I commissioned a sketch from Wendy Pini, from whom I commissioned a sketch at my first Comic-Con, 31 years ago. And considering the passage of decades, the price wasn't much different: $40 now, compared to $10 then. But while for years convention sketches have been paid for in cash, or on occasion by check, I paid for this one (and several other purchases in the Dealer's Room) by credit card, signing my name with my fingertip on Richard Pini's iPhone. These two themes of continuity to past conventions, and changes, played themselves out over and over during the four-and-a-quarter-day con.
Along with the Pinis, many creators I met or saw at the con three decades ago can still be seen there. Folks like Marv Wolfman, Len Wein, Mark Evanier (who hosted a baker's dozen panels, as he has for years), my old friend Phil Yeh (whom I first met at a Seattle convention nearly 30 years ago), Brent Anderson, and others still come to the con to meet their fans and talk about their craft.
Many changes related to the Con's swell of popularity in recent years, fueled by its reputation as a source of word-of-mouth promotion for the superhero movies and other film and TV projects that relate to Comic-Con's pop culture sensabilities. For instance, for years Amy and I have purchased our memberships for the following year's convention onsite. In the past, this involved walking up to a table in the main lobby, perhaps waiting in a line one or two people long, and picking up the memberships. Last year was a bit more complicated: We bought the memberships on the last day of the Con, and because the Preview Night passes were being sold only at the convention (and because memberships started selling out a few years ago, for the first time), the line was fairly long. This year, the process of getting the next year's membership devolved into madness. The passes to be sold at the convention were apportioned between each day; and on each day the passes were sold only between 8 a.m. and 10 a.m. Those who lined up before the sun came out were able to buy 4-day passes with the Preview Night, at an unprecedented price of $175 each. We got into line shortly after 7 a.m. on the second day of the con; waited nearly four hours; and were still unable to get either the Preview Night feature or four-day passes. Instead, we got four one-day passes each.
Eventually, the sheer effort necessary to obtain memberships will likely cut down on the number of memberships sold, resolving the problem. Or the con may expand -- although it already fills the convention center and slops over to the two closest hotels.
Major movie studios' participation in the con also changed. Disney/Marvel and Warner Brothers/DC made headlines by declining to put on presentations for their upcoming comics-related films, leading to commentary that Comic-Con might be losing its buzz as a tastemaker.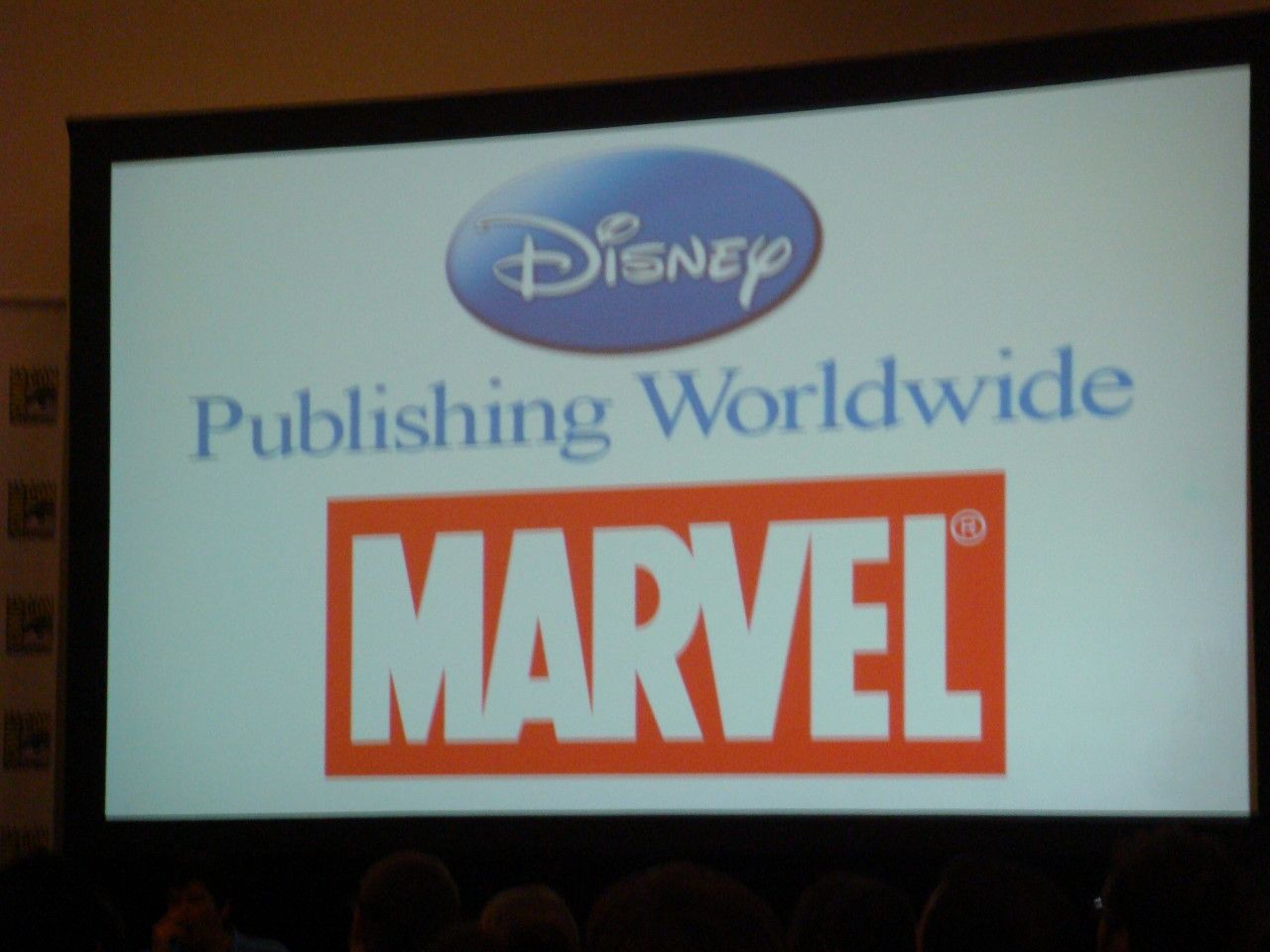 We held on to some hope that this trend would allow us to actually attend some of the movie and TV presentations we had been unable to see for the last few cons, since they required lining up for so long that we'd miss a major portion of the convention if we tried to attend them. But unfortunately, we did not get into Hall H, or (for the first time) Ballroom 20, the mecca for TV programming. The closest we came to media panels was to attend the highly-entertaining panel put on by Penn & Teller to advertise their upcoming TV show on Discovery. (To do so, we sat through a mildly-interesting panel on Voltron.)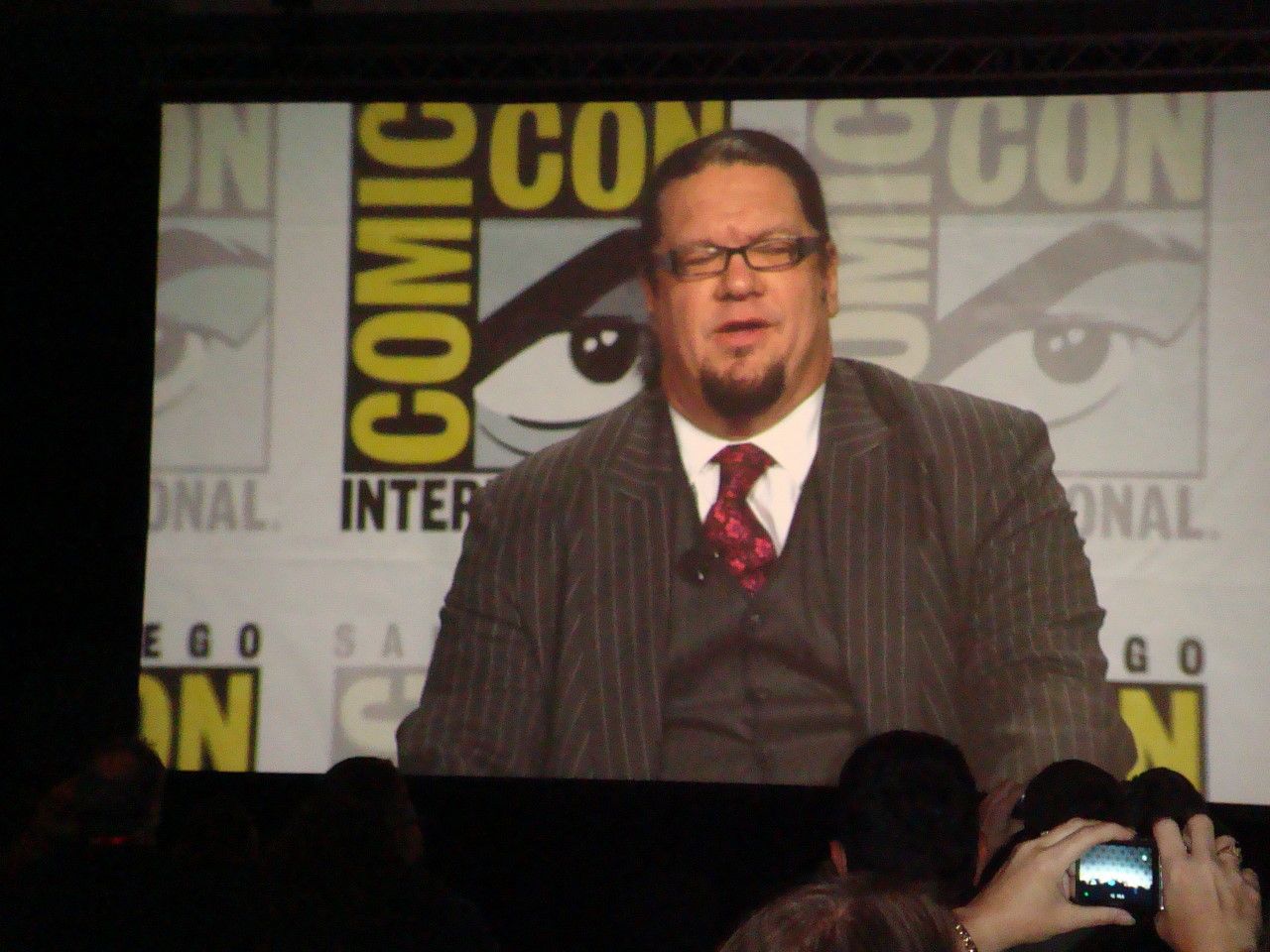 Further, Marvel did not abandon the con entirely. Notably, they premiered CAPTAIN AMERICA: THE FIRST AVENGER at a nearby theater, a day before it opened nationwide, leading to lots of goodwill from con goers (particularly in response to the trailer after the opening credits for next year's highly-anticipated AVENGERS movie.
And Marvel tricked out its booth in the Dealers' Room with a stunning recreation of SHIELD headquarters from the Avengers movie, complete with models in SHIELD jumpsuits: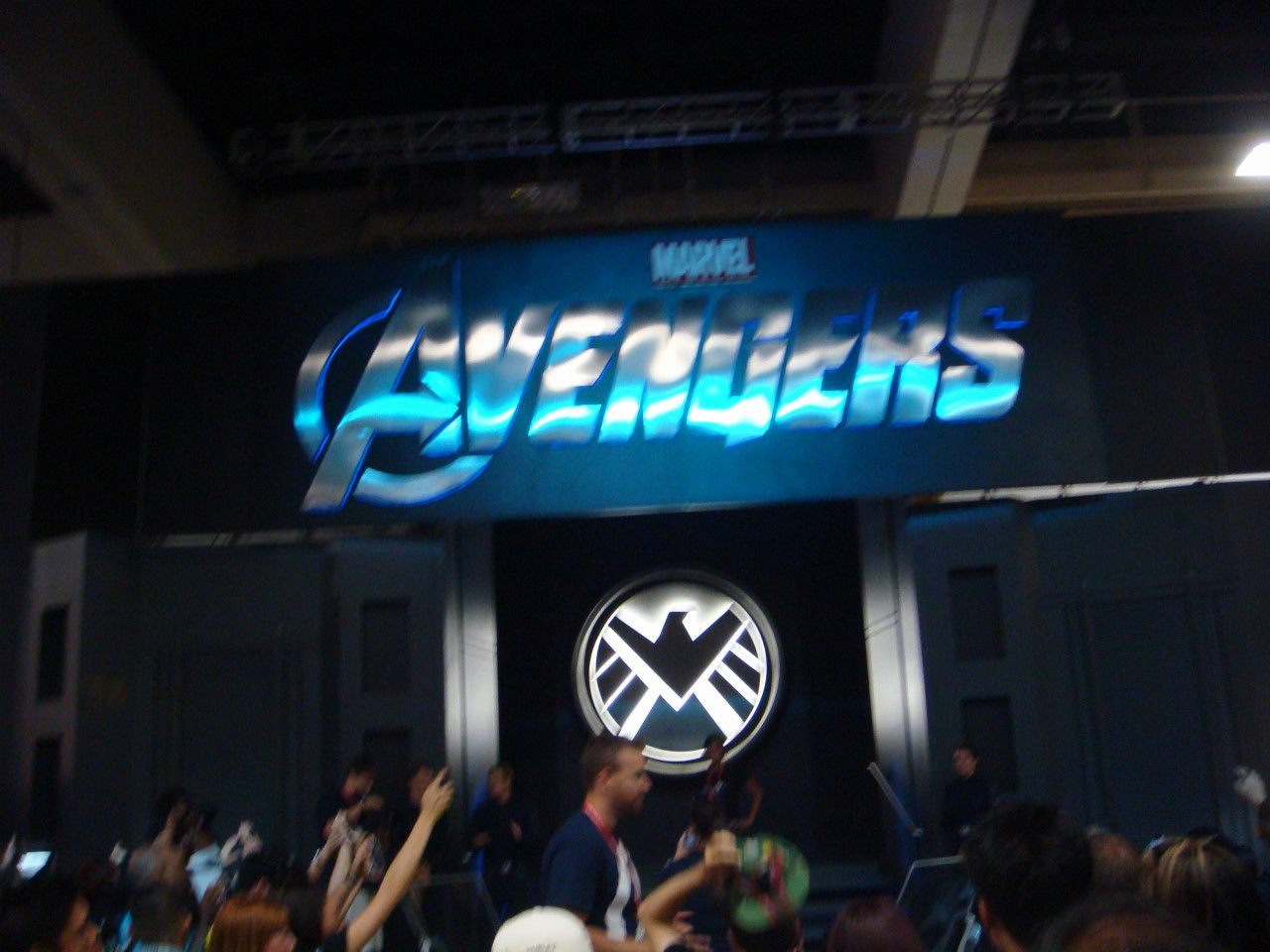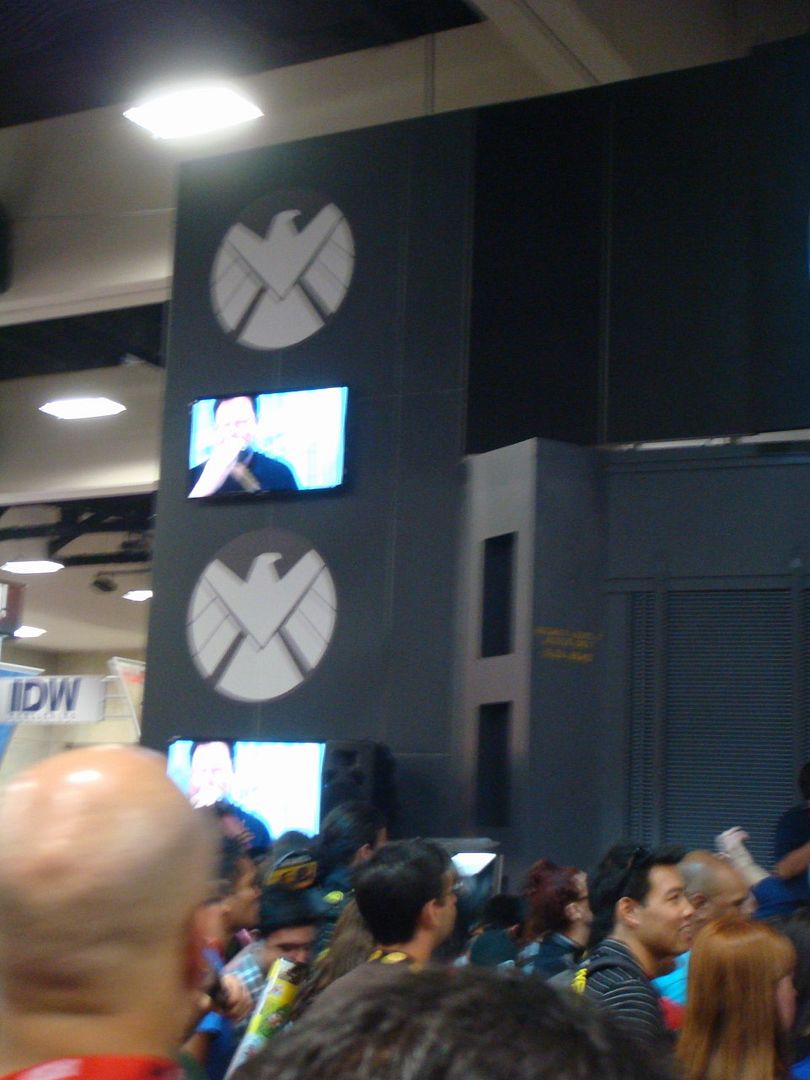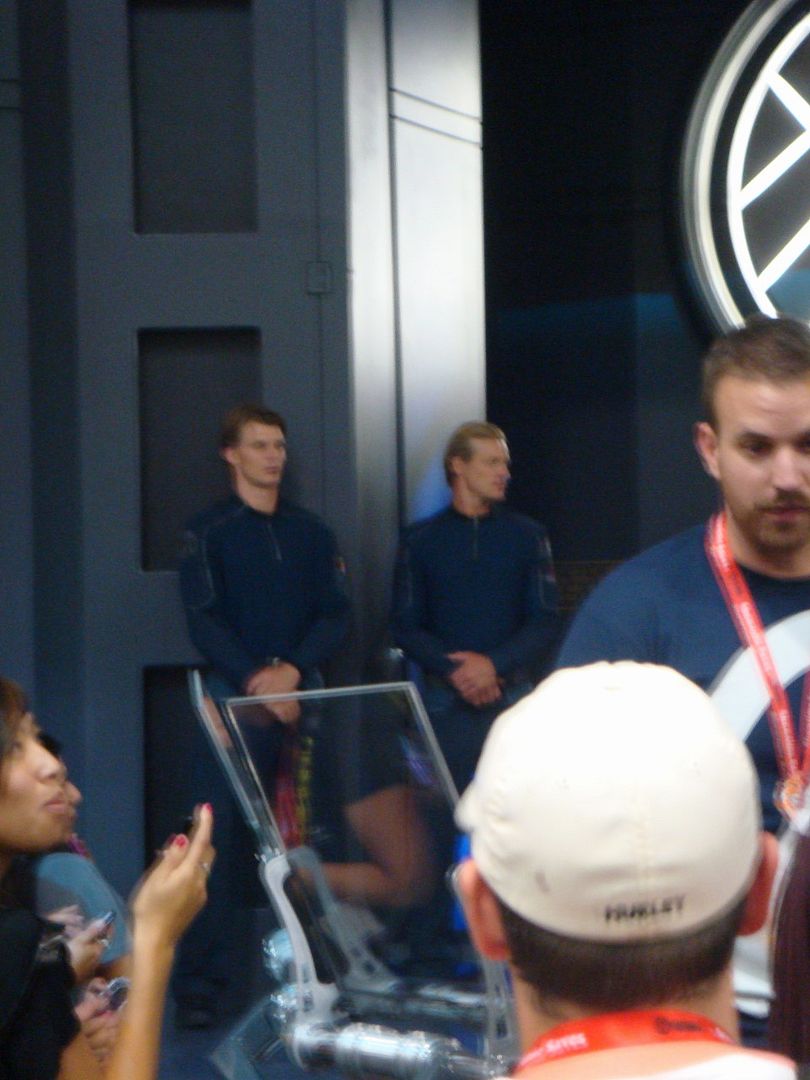 And DC Comics was certainly represented at the con, with T-Shirts and con bags emblazoned with Jim Lee's redesign of the Justice League, and high-rises decked out with supergraphics advertising the upcoming Batman video game, Arkham City.
But what I really come to Comic-Con for are the comic-book creators, and the panels on which they talk about their pasts and future.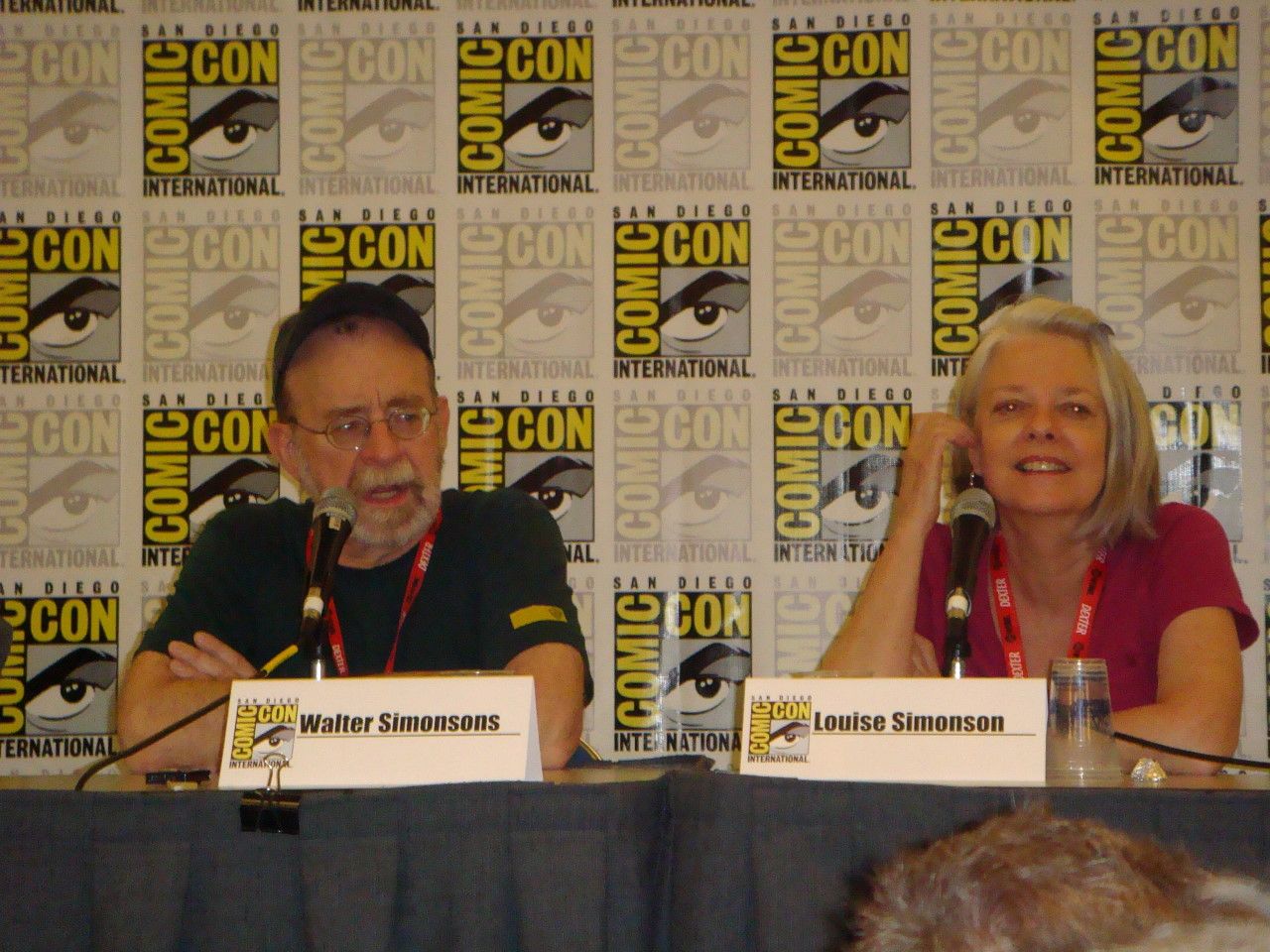 Indeed, since by Friday afternoon I had not attended any comics panels (having spent most of Thursday attending the Captain America screening, and Friday morning in the hideous pre-reg line for 2012), immediatly upon finishing the pre-reg and getting lunch at one of the handy food trucks a couple of blocks away, I insisted on sitting through three comics-oriented panels in a row: A tribute to the multi-decade career of the recently-deceased artist Gene Colan; a discussion of the comics fanzines of the 1960s; and the '70's panel, a tribute to the somewhat-staid, somewhat-experimental comics of that period. Interestingly, one of the con guests of honor, Roy Thomas, was on each of those panels.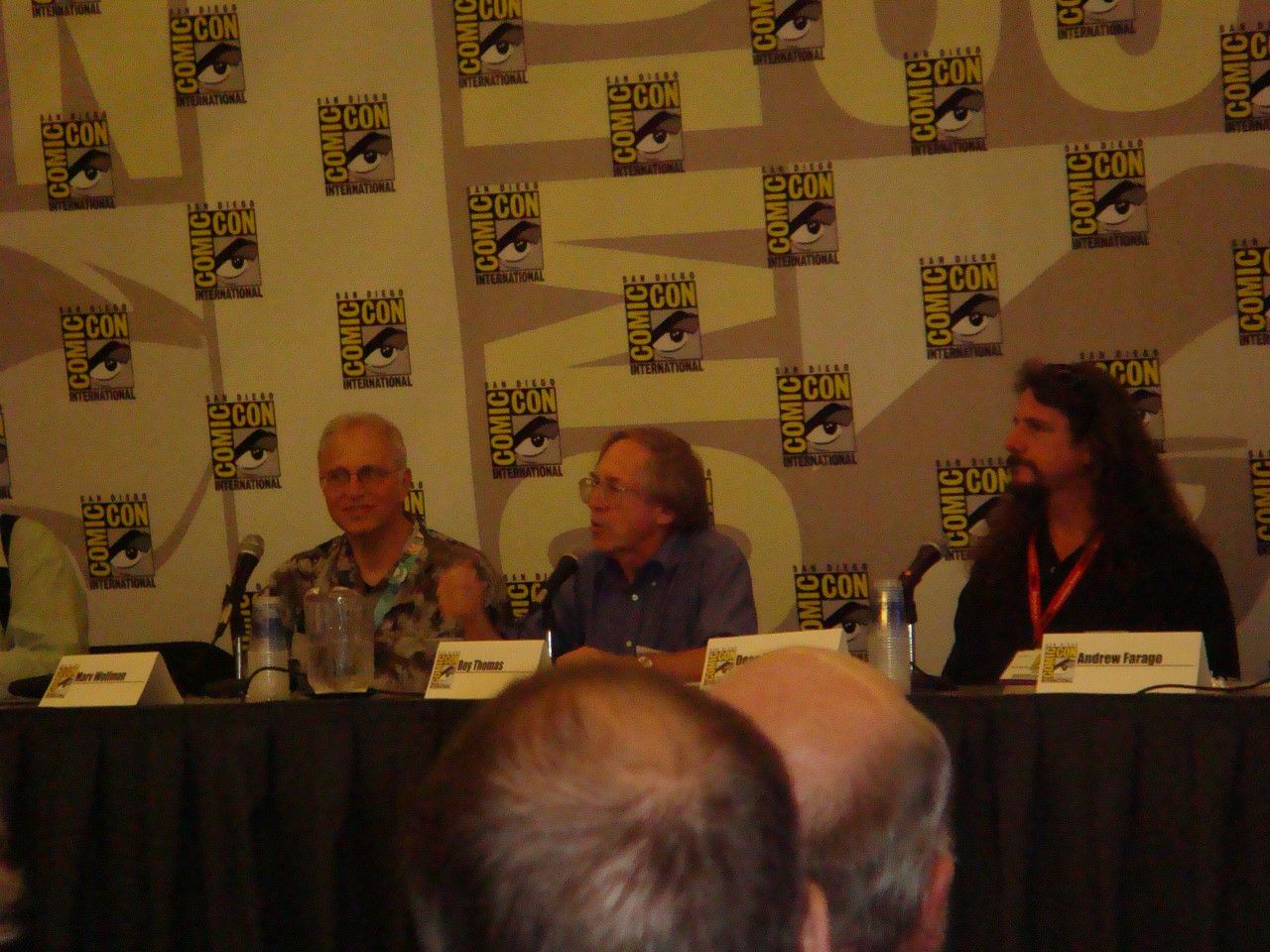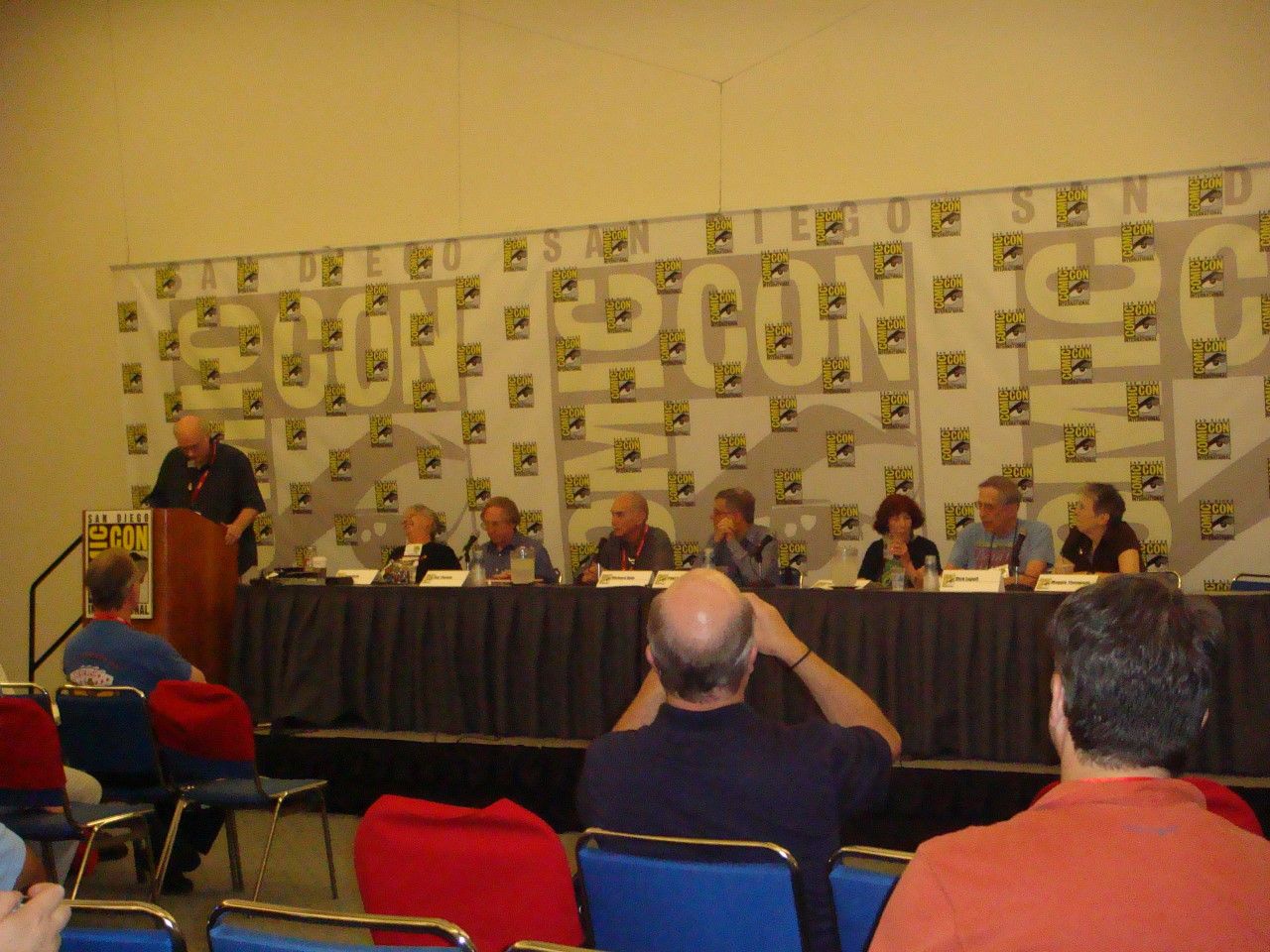 Saturday, as in previous years, was steampunk day. The steampunk panel was put in a much larger room than in previous years, yet filled up completely -- showing that interest in the subculture is not waning. And that afternoon, we once again had a big steampunk gathering on the mezzanine of the convention center, filled with amazing outfits and gadgets.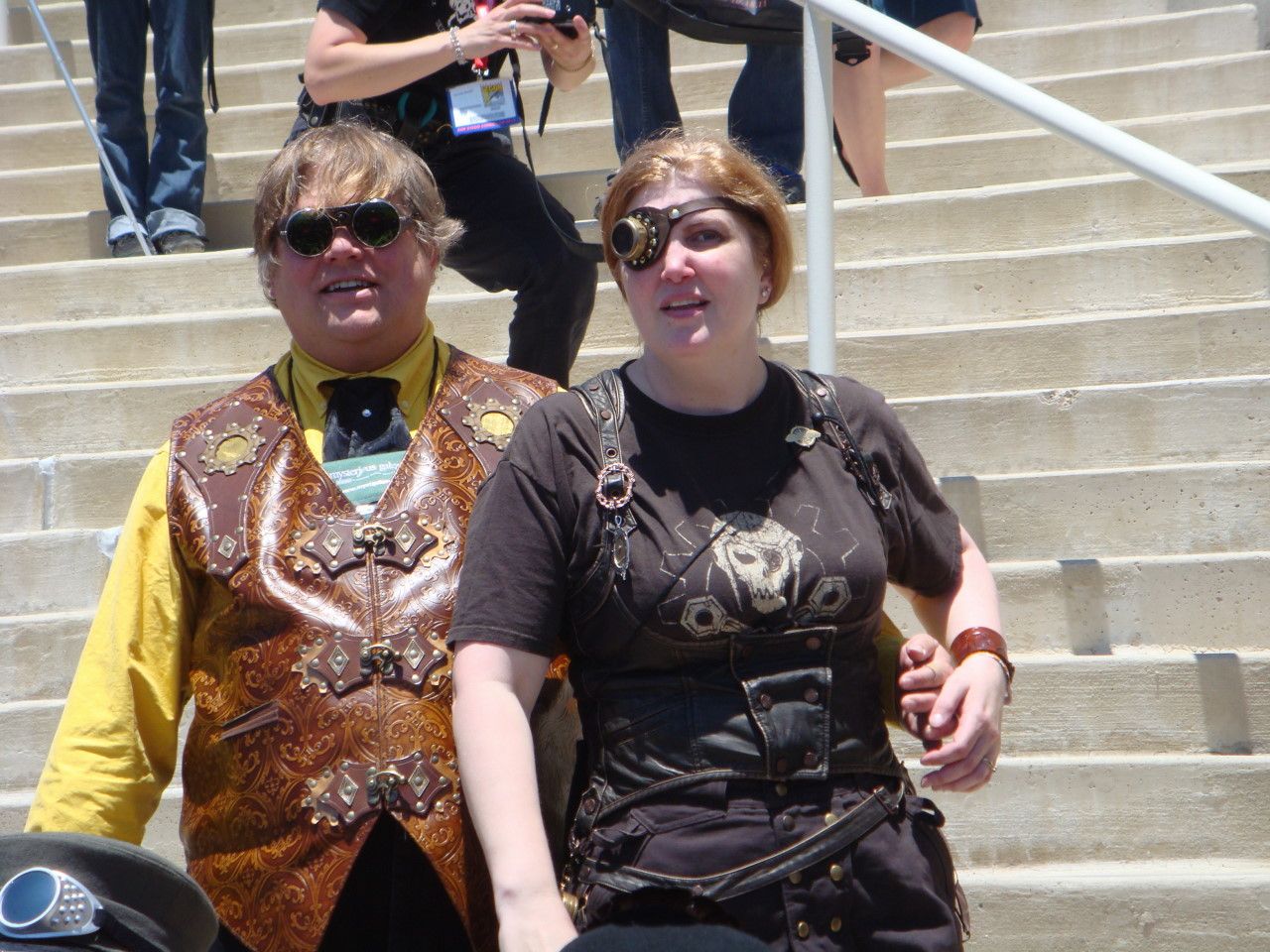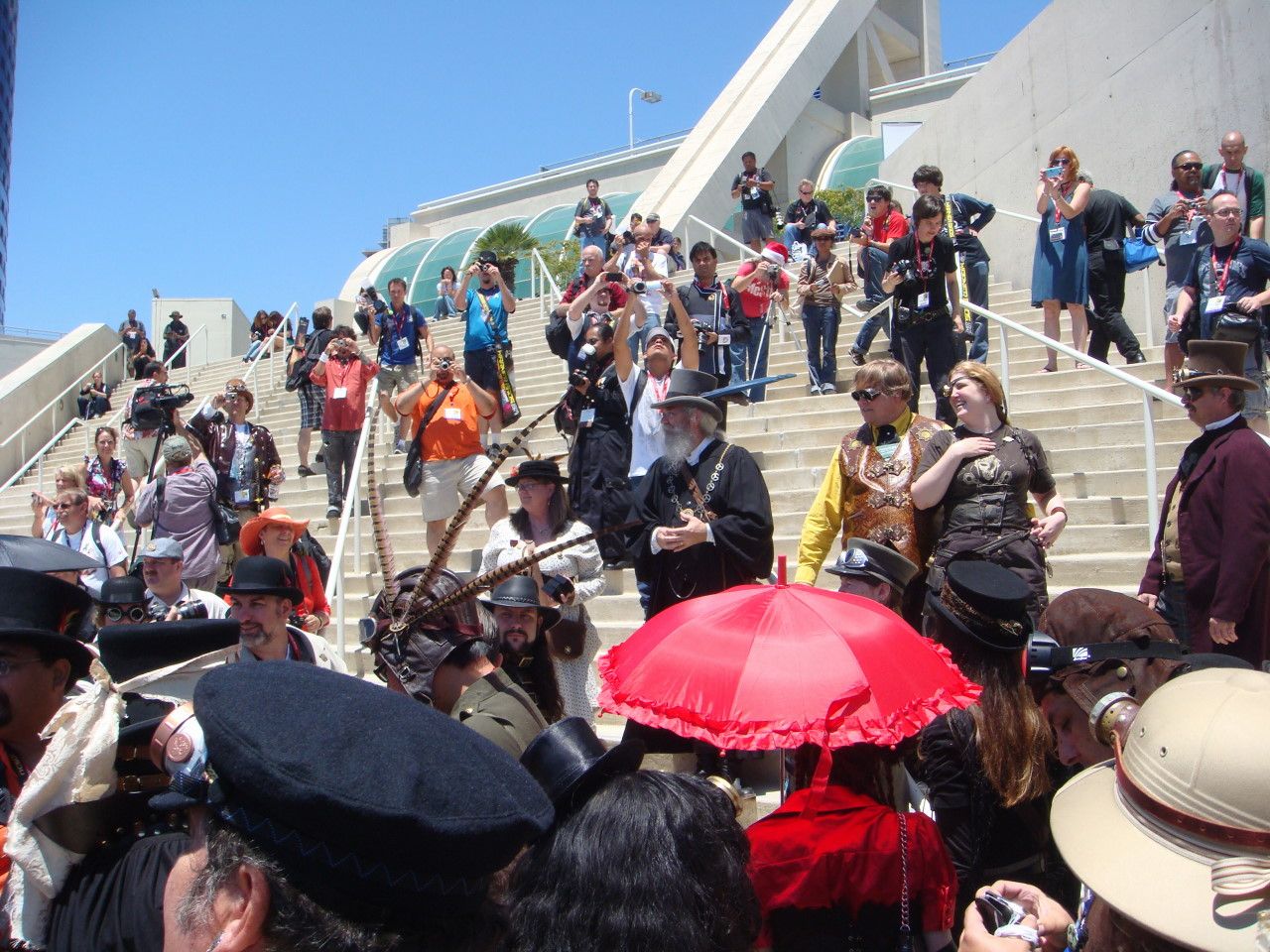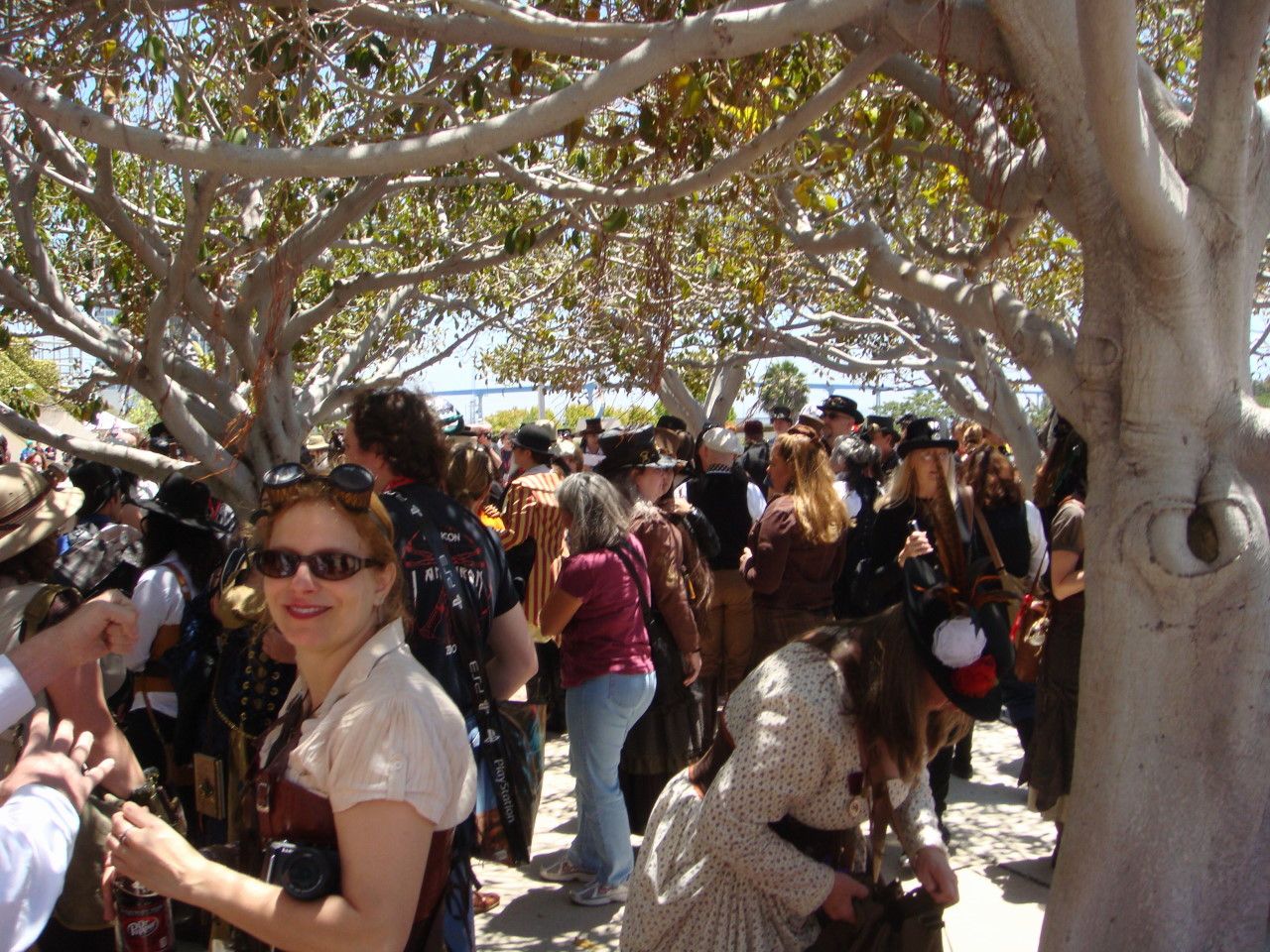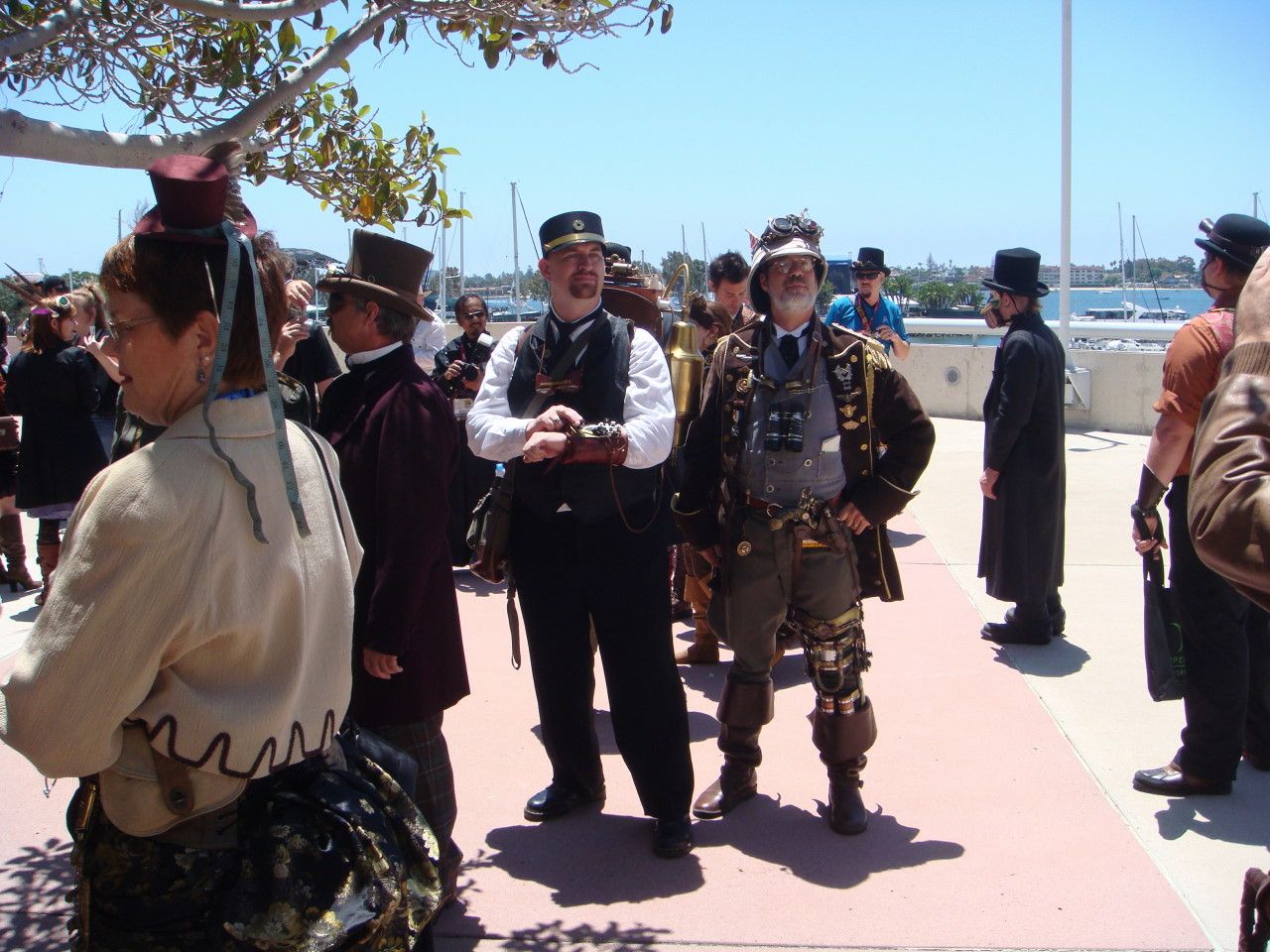 We finished out Saturday watching the masquerade -- not watching it live, nor at the party under the sails on top of the center, but in yet another ballroom where it was being simulcast. I suspect that between the three venues, everyone who wanted to see the masquerade had a chance to do so.
Sunday is generally our day for packing up, attending a few final panels, and doing a last sweep of the Dealers' Room. This customarily includes visits to the booths of Comic Relief and Bud Plant. But there again, change was in store. Comic Relief of Berkeley went out of business last year. And Bud Plant, after 41 years selling comics and art books, is retiring and selling his business. We went to his (much diminished) table, bought some books and chatted with Mr. Plant, but the atmosphere around his table was filled with the sensation of time passing.
We will be coming back to Comic-Con next year. (After what we went through to get passes for next year, we'd damn well better.) And we'll probably have a good time, like we did this year. But we'll probably be aware next year, as we were this year, that you can never go back to a Comic-Con you went to in the past, because, for better or worse, Comic-Con must always change.
Here are some parting miscellaneous photos of the con. More next year.