Let's get the obvious out of the way first, shall we? There were lots of people. Lots and lots and lots.
Due to this being the 40th Comic-Con (but not the 40th anniversary -- the first two cons were held in the same year, and anyone who calls this the 40th anniversary of the con doesn't know what "anniversary" means), the souvenir program book printed the attendance for each of the preceding cons. My first -- the 1980 con -- had about 3,000 attendees. This con had 120,000 paid attendees. That's not counting (I presume) the exhibitors, and the professionals, and the security, and the con center staff, and the folks who sneaked in . . . well, the estimate I heard was 250,000 coming through the doors per day, which is a lot of humanity.
That said, let's get to what happened:
On Wednesday, preview night, we made a quick sweep of the dealer's room -- excuse me, exhibit hall (as the kids call it these days) -- which, as usual, was filled with wonders such as: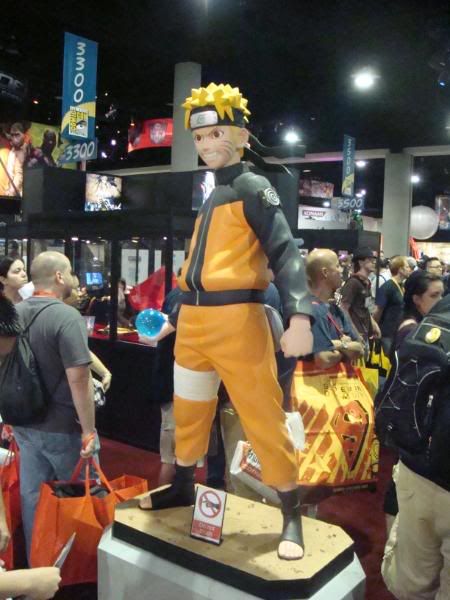 A lifesize statue of Naruto;
An equally lifesize battle-mech at (I believe) the Mattel booth;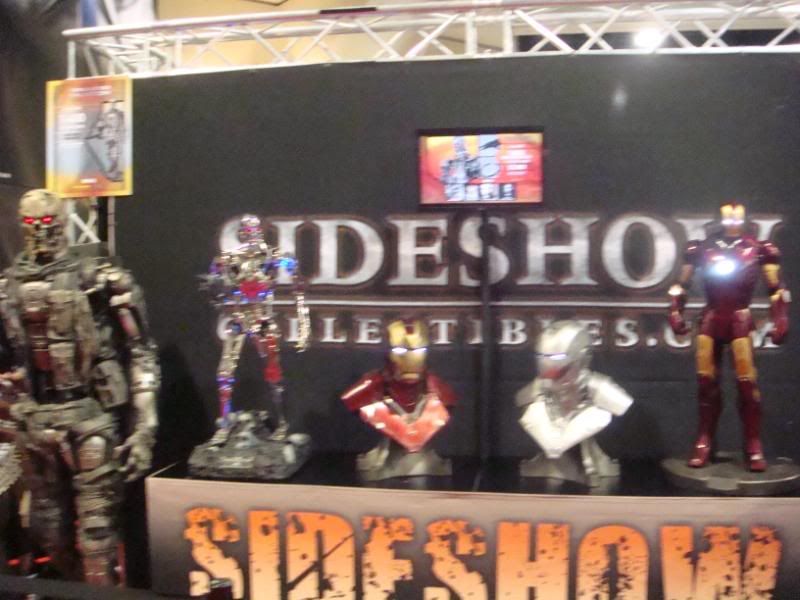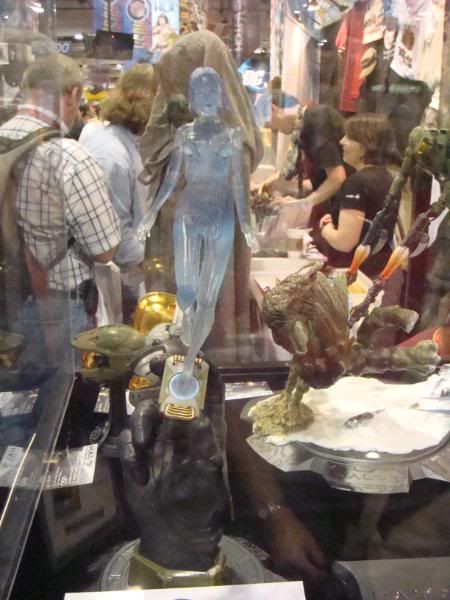 A sideshow of collectibles at the Sideshow Collectibles booth;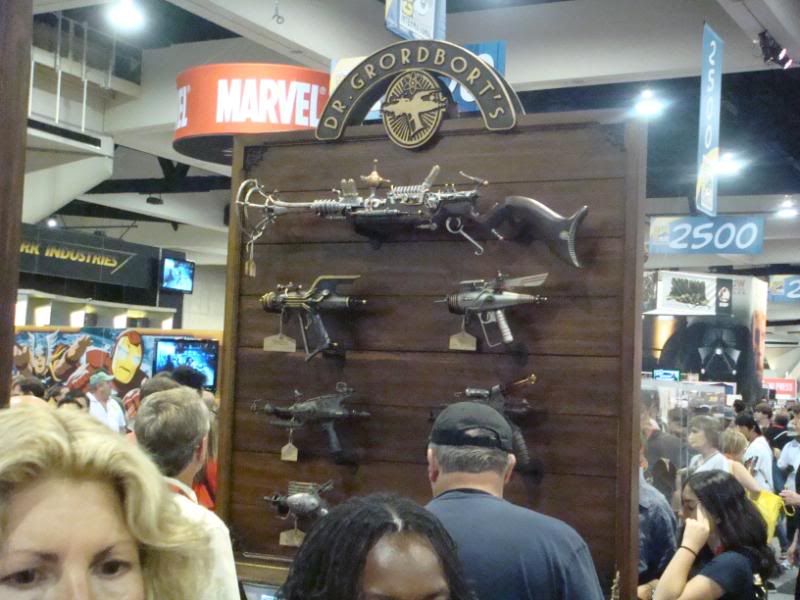 And this armory of steampunk rayguns from the New Zealand special effects company Weta.
We finished the evening by walking through the nearby Chuck Jones Gallery on Fifth Avenue (which had an exhibit of art by Alex Ross, Jim Lee, Dr. Seuss, and other whimsical folk); and enjoying a sundae at Ghirardelli's with our friend Janine.
On Thursday, we started hitting the panels. Our first one was a DC panel for "motion comics," comics stories and graphic novels distributed over iTunes and the Internet with voiceover narration and images computer-altered to move in a rough approximation of comic-book storytelling. What they showed wasn't that impressive (the excerpt from "Red Sun," a retelling of the Superman legend set in Russia with a cossack Batman, was especially silly). But the panel was impressive, since it included folks like writer Paul Dini, WATCHMEN artist Dave Gibbons, and DC publisher Paul Levitz.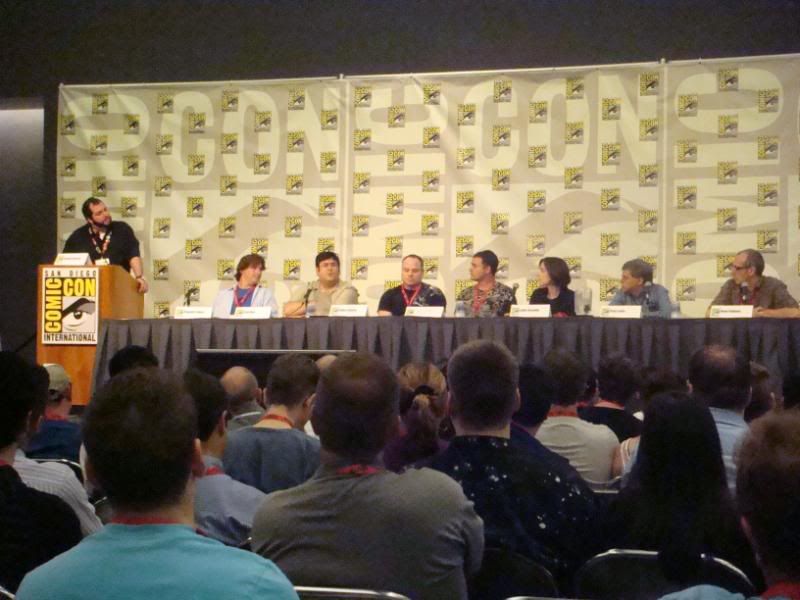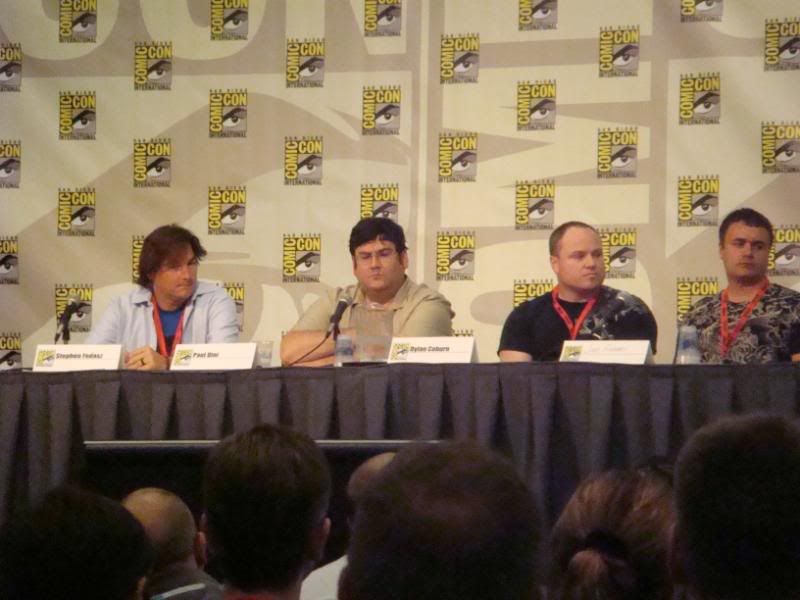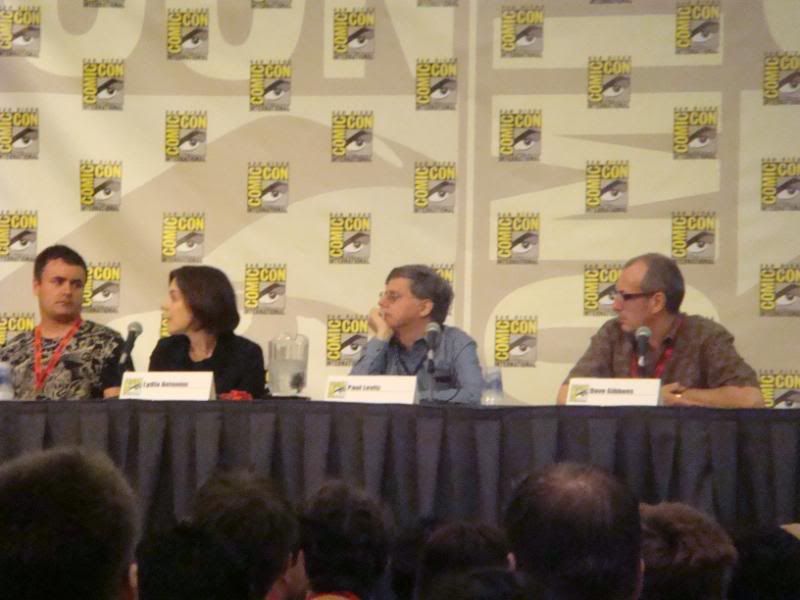 Later that day, we ventured into Room 20 (the second biggest room at the con, surpassed only by the 6,000-seat Hall H) for the Wonder Women panel put on by Entertainment Weekly. It featured a truly spectacular panel of actresses who had portrayed strong female characters in science fiction -- including STAR TREK's Zoe Saldana, LOST's Elizabeth Mitchell, DOLLHOUSE's Eliza Dushku, and most impressive of all, Sigourney Weaver. Weaver received a standing ovation. She was remarkably well-spoken for an actress working without a script; she delivered impressive speeches, and set the pace for the discussion.
Next came the first Comic-Con panel for USA Network's hit BURN NOTICE. This panel was packed -- particularly because it featured Bruce Campbell, beloved by fans for decades of performances in genre works from EVIL DEAD through the SPIDER-MAN movies.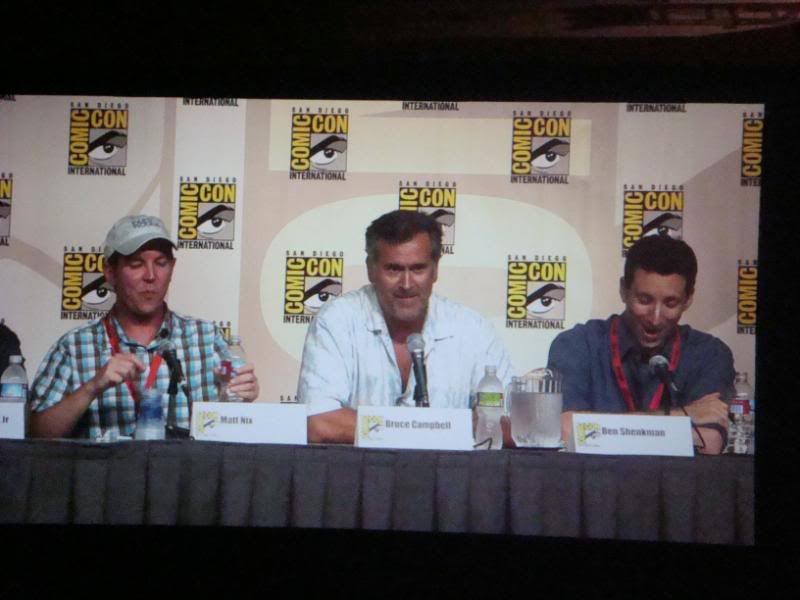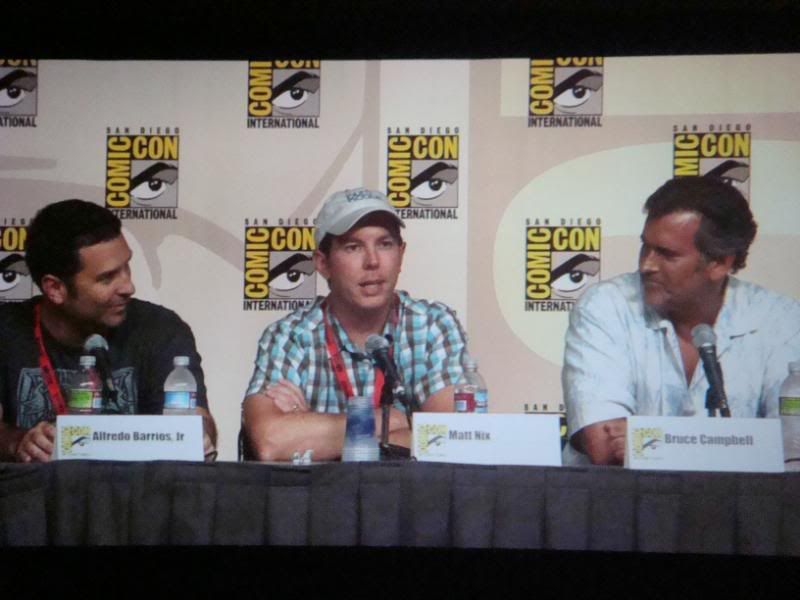 Series lead Jeffrey Donovan didn't appear on the panel; but he taped two hilarious "when you're a spy" type shorts about surviving Comic-Con, with espionage tips for attending two panels scheduled for the same time (sneak in and sabotage the A-V equipment for one of the panels, delaying it -- especially funny because the BN panel was delayed) and for getting panel giveaway swag (investigate the person in charge of giving out the swag, and blackmail him).
We then hit the first Mark Evanier-moderated panel we attended, which was his annual golden- and silver-age comics panel. This one featured such creators as '60's DC war comics artist Russ Heath, 1930's-1940's Batman artist (and creator of The Joker) Jerry Robinson, ace artist Gene Colan (whose attendance at the con was in doubt for several days before the event), Metamorpho and Aquaman artist Ramona Fradon, silver age artist and production master Murphy Anderson (who always looks quite dapper, as one might expect from a master of production), silver age artist Jack Katz, and "On Stage" comic strip creator Leonard Starr.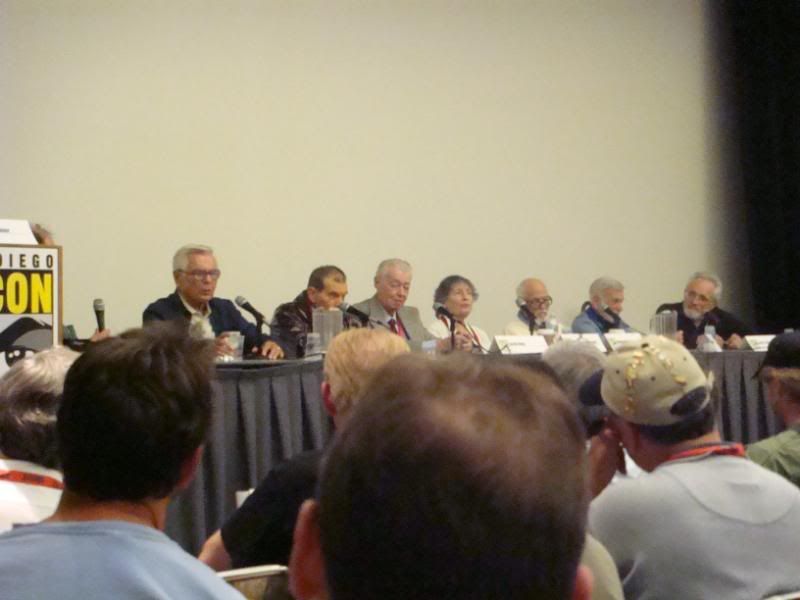 We had dinner at a nice Italian restaurant on Fifth Avenue with sister-in-law Helen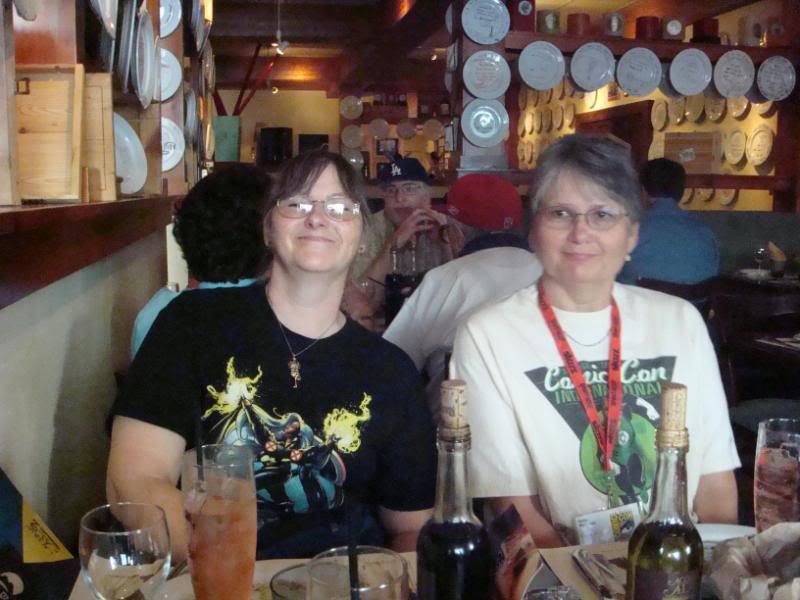 and finished the evening with a viewing of clips from recent Hong Kong kung-fu epics. (I particularly enjoyed a sequence from John Woo's movie RED CLIFFS, in which an army defeats a much vaster force by taking weapons from the hands of advancing soldiers and using them against the former wielders.)
We started Friday with a panel on one of our current favorite shows, the animated BATMAN:THE BRAVE AND THE BOLD.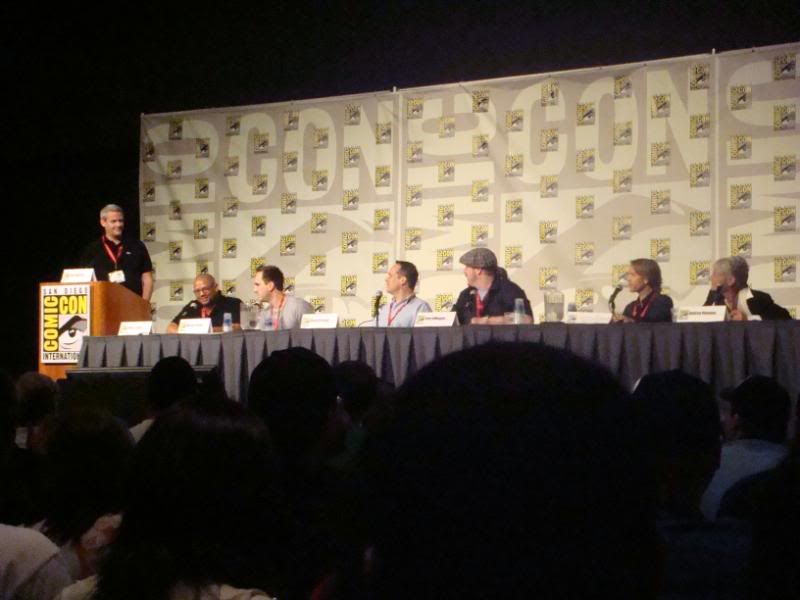 The panel included voice actors for the series, including Deidrich Bader (the voice of Batman) and John DiMaggio (the voice of the show's boisterous version of Aquaman, as well as the voice of Bender on FUTURAMA and Drakken and Motor Ed on KIM POSSIBLE).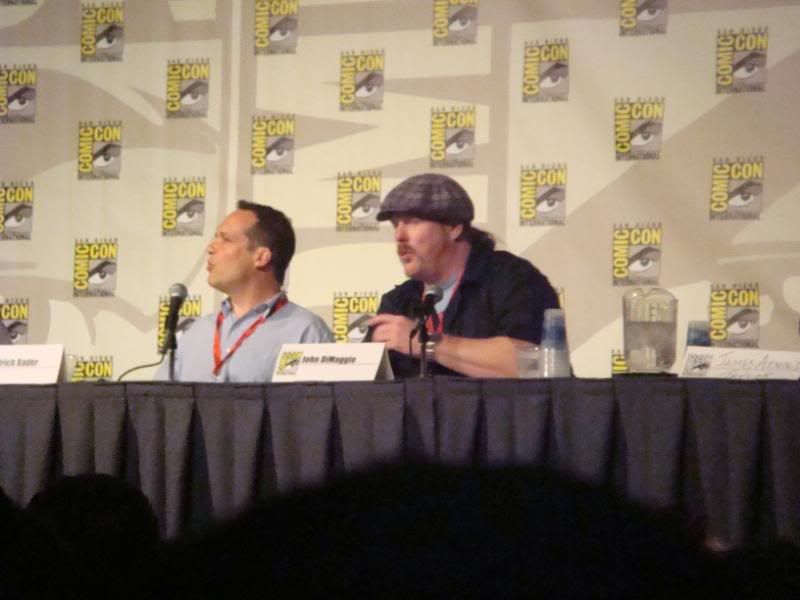 The folks at the panel showed an episode from the coming season that featured Neil Patrick Harris as the voice of the Music Meister, a villain who controls peoples' minds by singing. The result was an almost-all-musical episode, scored in the style of several Broadway composers, that drew an enthusiastic standing O from the assembled.
In the dealer's room, the Black Beauty from the planned GREEN HORNET movie starring Seth Rogan, which was shrouded during preview night, was unveiled, revealing a sleek midnight-colored sedan bristling with weapons -- truly the "rolling arsenal" the narrator of the '60's TV show described.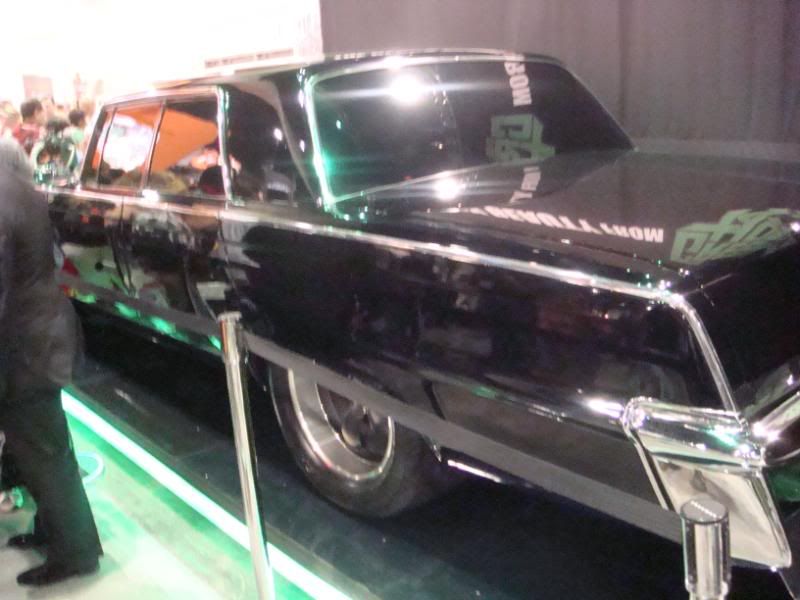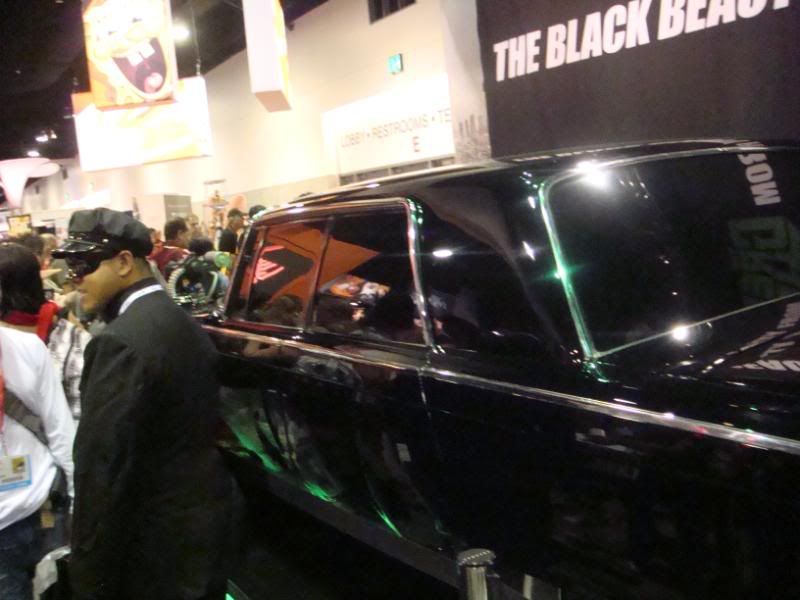 I attended another Mark Evanier panel that afternoon: his tribute to '70's comics creators, with folks like Marv Wolfman, Steve Leialoha, Doug Moench, Elliot S. Maggin, and Gene Colan again. (Due to a miscommunication, Colan had missed his own spotlight panel, which immediately preceeded this one; he entered in the middle of this panel, to thunderous applause.)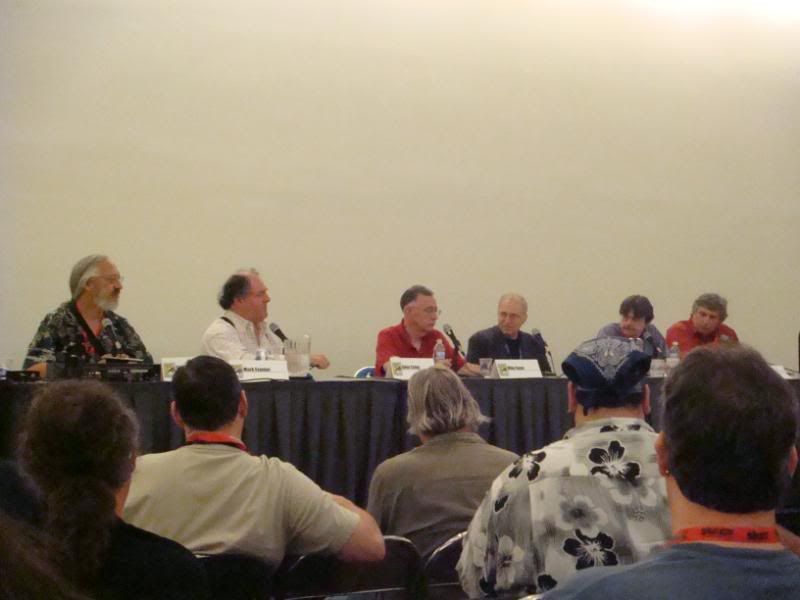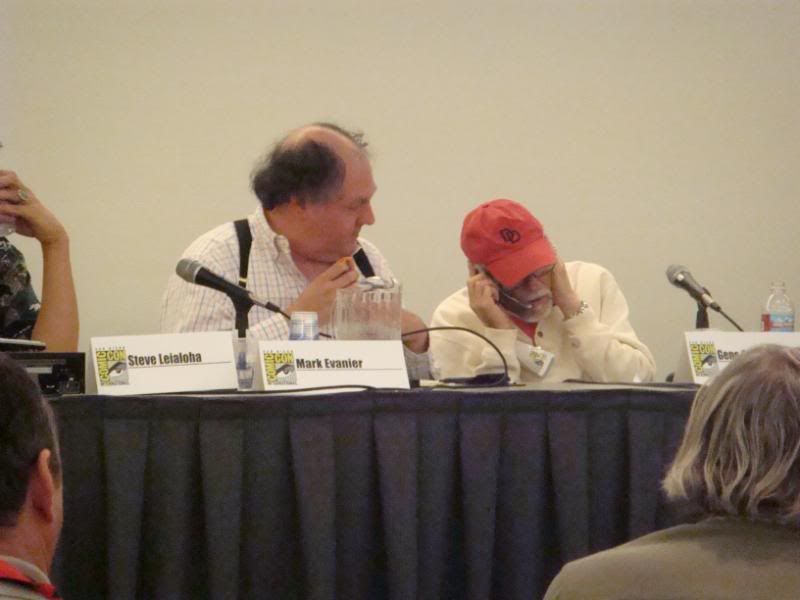 After this panel came Evanier's "Legends of Batman" panel, which featured three artists who, at various times stretching from the first Batman story to Bob Kane's last "work" on the feature in the sixties, assisted or ghosted Kane's work: Sheldon Moldoff, Jerry Robinson, and Lew Sayre Schwartz. The three played tag team as Kane's "hands": Moldoff assisted on the first Detective Comics Batman story; Robinson began assisting a few stories after that, and eventually became a ghost artist; Schwartz took over as ghost in the post-World War II period; and Moldoff ghosted from the mid-fifties through the late '60's, when "Kane" retired from comics.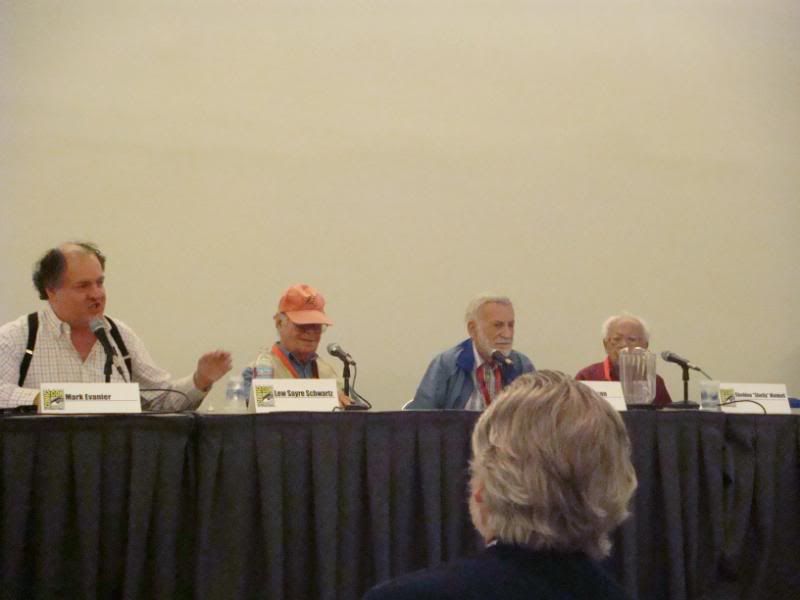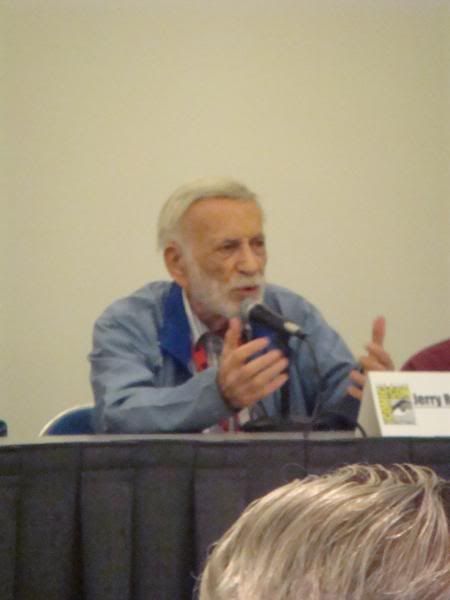 As with nearly every panel comprised of Kane's "ghosts," the subject was what a miserable (in every sense of the word) jerk Bob Kane was. Moldoff, who worked for Kane for years, didn't mince words: "He [Kane] was evil personified."
The artists offered explanations for Kane's behavior. He became rich and successful while still a teenager; and grew insecure that someone would find out the "truth" about him. So he paid artists who could draw better than he to produce the work "he" was contractually obligated to produce for DC (in addition to the Batman pages drawn by artists who worked directly for DC); and became indignant when anyone suggested he didn't draw every line and scallop of the Batman feature.
I left before the Batman panel was over, because I had to attend another panel: The International Association of Media Tie-In Writers panel, co-moderated by my cousin Lee Goldberg, and featuring Lee's brother Tod as a nominee for the organization's Scribe awards.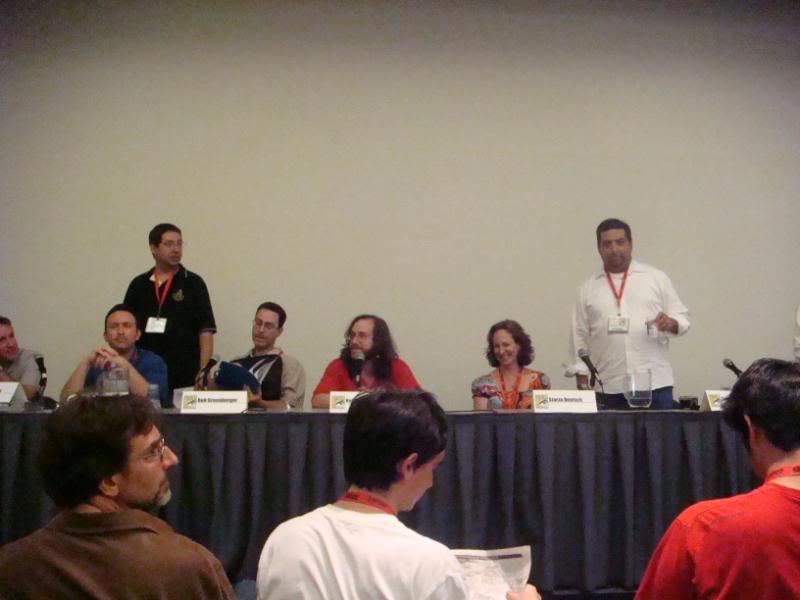 Because Tod writes the BURN NOTICE tie-in novels, Amy and I donned the BURN NOTICE T-shirts we had gotten at the previous day's panel and wore them to the IAMTW panel, to root Tod on.
Alas, Tod didn't win; but he, Lee, and the other IAMTW panelists (including co-founder Max Collins, who manages to write novelizations of numerous properties, original novels of numerous others, and tons of original mystery novels) put on a funny and entertaining panel.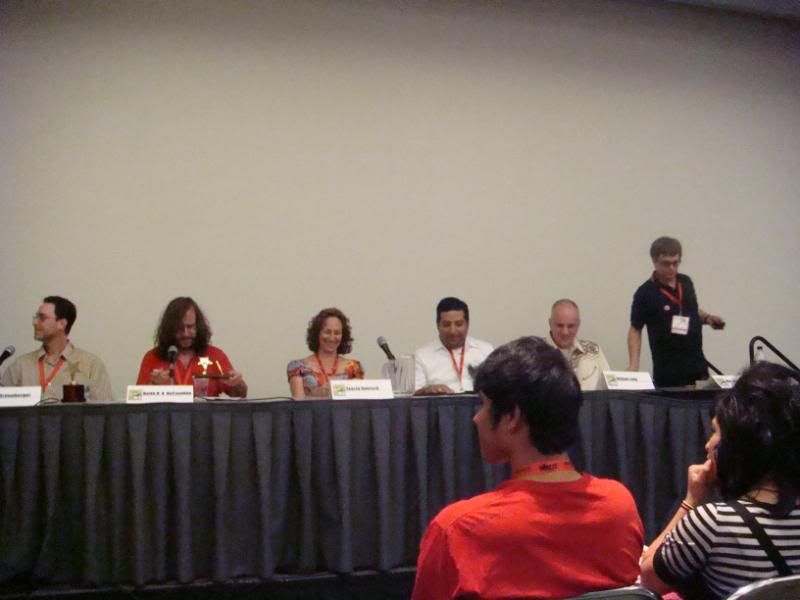 Afterward, we led the panel over to their assigned autograph area, under the "sails" on top of the convention center, where a line waited patiently to get their tie-in books signed.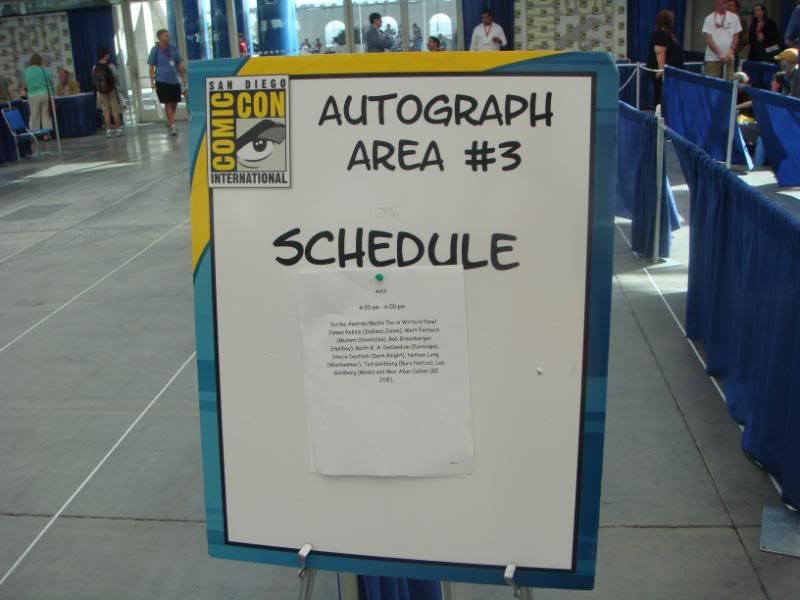 Lee and Tod immediately launched into engaged conversations with their book-buying audience.
Out on the exhibit hall floor, we met up with our friends Laurid (from Colorado) and Natalie (from Utah), where we admired such marvels (er, DC's) as the Batpod cycle from the DARK KNIGHT movie.
We also visited the booth of fan-favorite graphic novelist Phil Foglio, decked out in his victorian finery.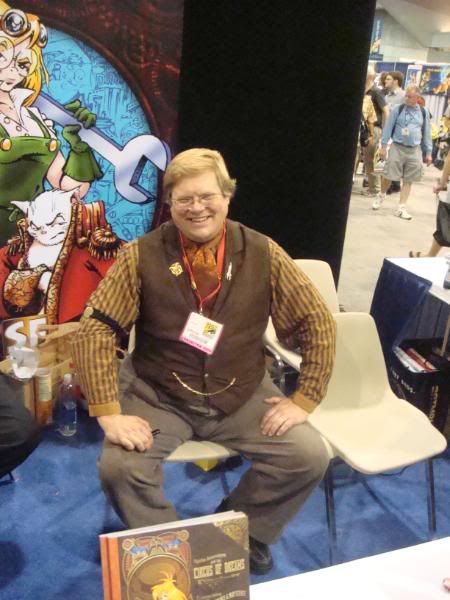 His table displayed an astounding fan-made statue of one of the tiny "clank" robots from his webcomic/graphic novel series, GIRL GENIUS: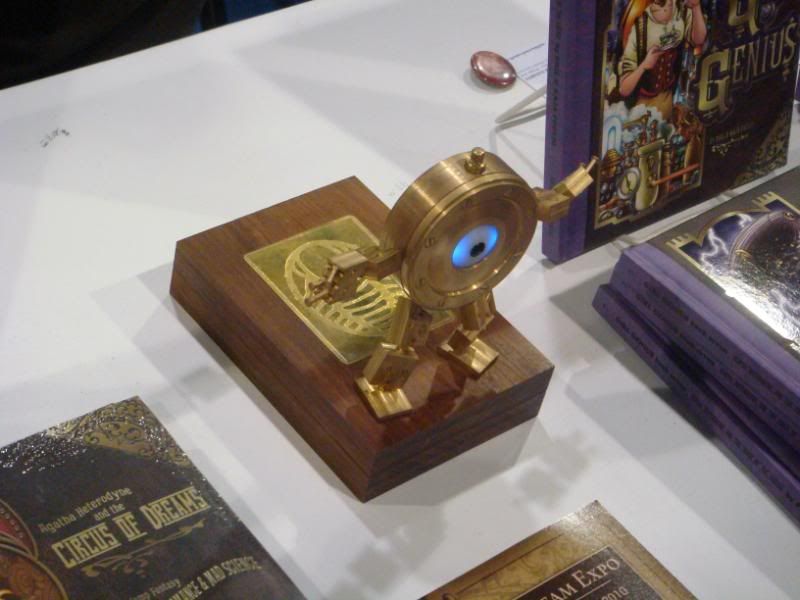 Later that night, we attended the Eisner awards at their new home, the recently-completed Bayview Hyatt hotel. There we saw such presenters as voice- and live-action actor Patton Oswald:
and everyone's favorite all-black-wearing best-selling fantasy novelist, Neil Gaiman.
On Saturday, we put on our steampunk duds, in anticipation of the steampunk meetup at mid-day. Here's a picture of us from the
Steampunk Fashion Livejournal page
:
(Yeah, my goggles were askew. It happens.)
We attended a couple of panels that morning, including Mark Evanier's ever-entertaining QUICKDRAW! panel (which was held in a huge ballroom -- and easily filled it). We cut out of that early, because we had been told that the Steampunk meetup/panel would be held in one of the tiniest rooms at the convention center -- and was always mobbed. We therefore got in line an hour before the panel. So did lots of steampunky folks, which prompted lots of photos and videos from the passers by. Eventually the room opened up; and our promptness did us no good: Only 60 people were allowed into the room, and we (and most of the other 200-some people lined up) didn't make the cut.
All was not lost, however; as related in other recent posts, we took part in what was billed as the largest steampunk photoshoot to date. Afterward, we came inside to pose for individual photos.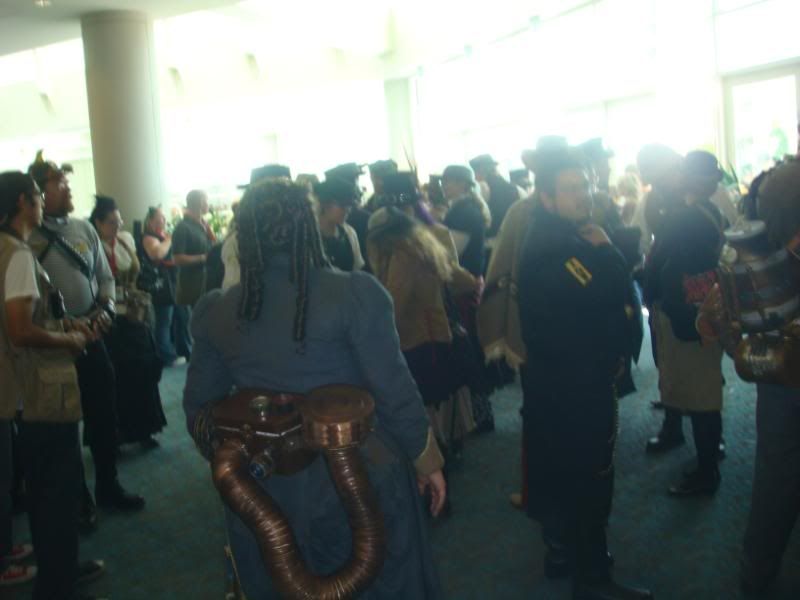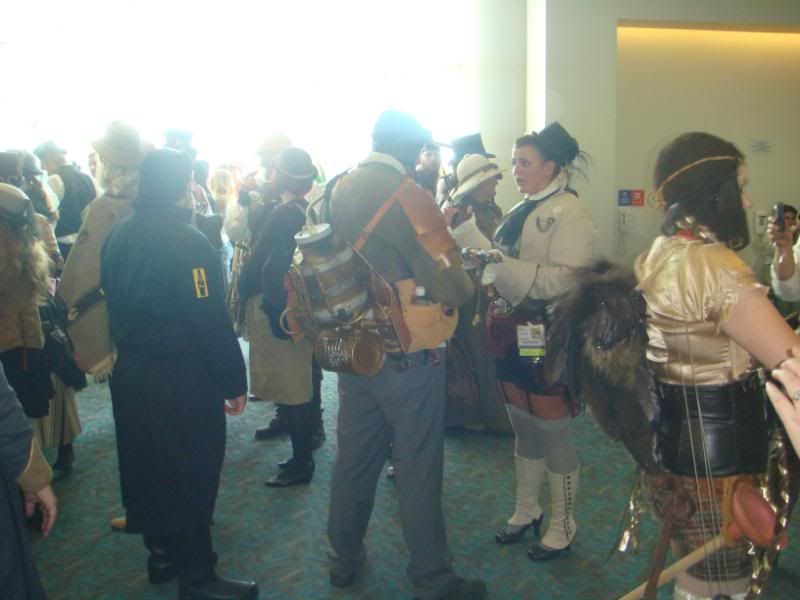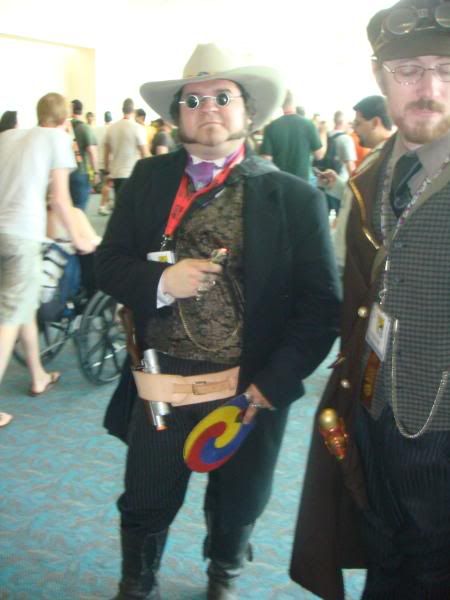 There were some terrific programs planned for Hall H that afternoon (including an IRON MAN II panel that I was eager to see); but I was disinclined to wait out in the sun in my black boots, linen pants, vest and topcoat for the slight chance of getting in.
So we walked the exhibit hall, often with Laurid and Natalie. This was the first time in the 22 Comic-Cons I've gone to where I attended in a costume. The effect is fascinating. In the standard con uniform of T-shirt and cargo shorts, I become invisible, just one of the hordes. Put on an unusual outfit, and you stand out, even among tons of people in costume. Folks come up to you, ask to take your picture, chat with you, and basically become your friend for a few seconds. The reception (at least to me) was universally positive. I can see how this can be addictive for those who bring multiple costumes to conventions.
One of the sights we came across was a wall of Iron Man armors in the Marvel booth: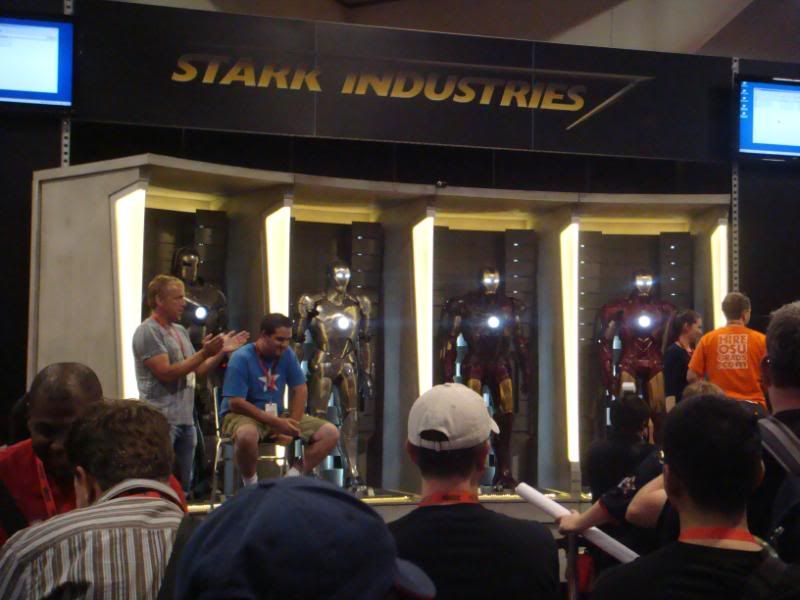 Another was one of the employees at Phil Foglio's booth, who was costumed as the character Dupree from the GIRL GENIUS comic: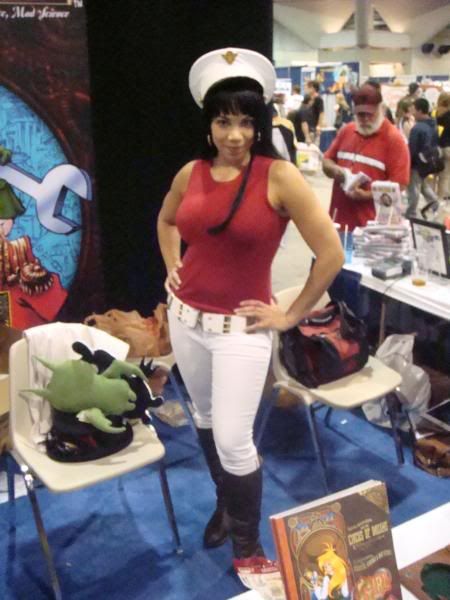 Another costumed person was Laurid, who was clad in a perfect Stargate uniform.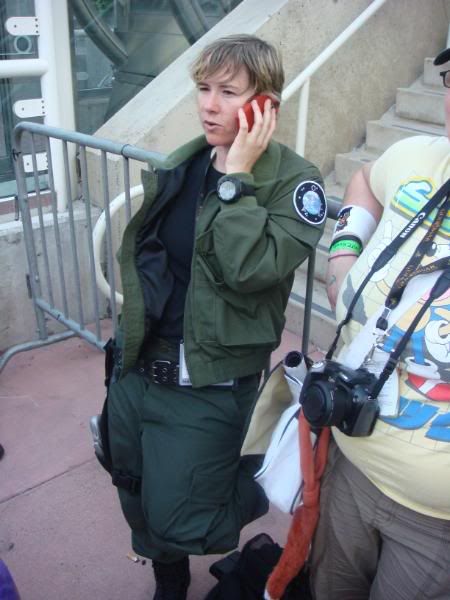 That evening, we went to dinner with Natalie, Laurid and another Utah friend, Sarah. We walked over to The Old Spaghetti Factory, a restaurant that was a mainstay of the con for decades until the building was taken over by another restaurant. This year, the Factory returned, in the same building, with a fancy bar (which took the sting out of the long waits for dinner at the Factory), separately operated, on the second floor. The Factory was everything we remembered so fondly: great service, good food, and extremely reasonable prices.
Sunday brought (in addition to the voice actor panel covered in another post) our last crack at the exhibit hall, and our last chance to photograph hall costumes: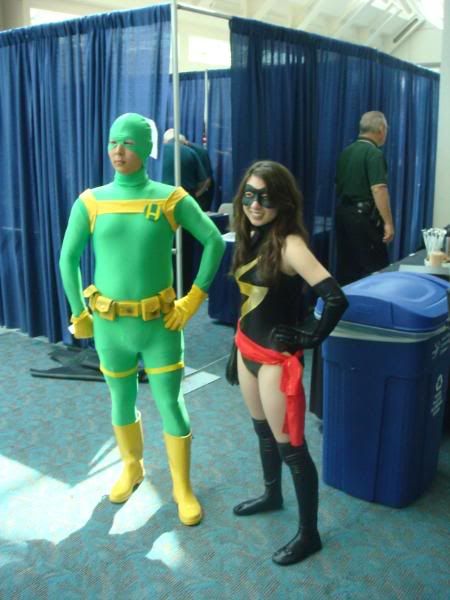 Cute:
Even cuter: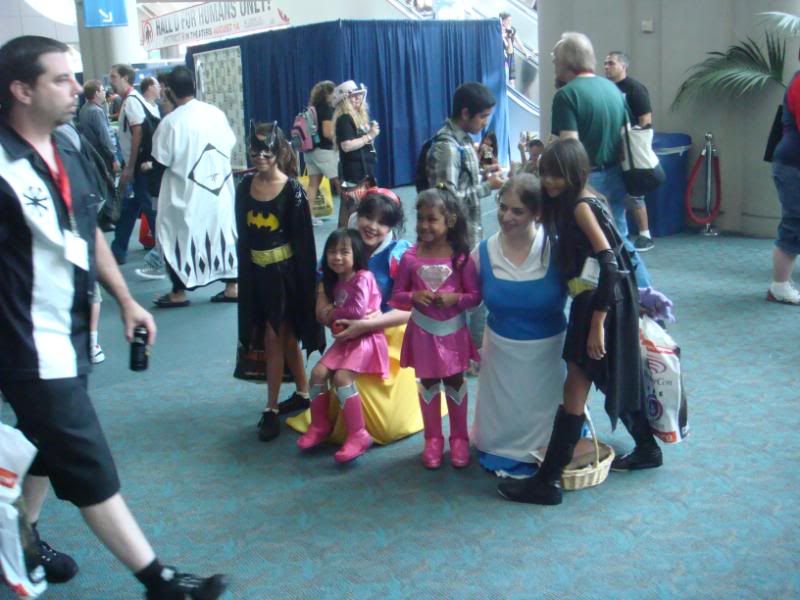 In a whirlwind tour of Artist's Alley in the last hour of the con, we chatted with former child star (not to mention Babylon 5 actor, and half of the novelty-record team Barnes & Barnes) Bill Mummy; comedy legend Stan Freburg and his wife, who were attending the con for the first time; and Gene Colan, who took the fact we were from Los Angeles as an opportunity to discuss Gary Cooper and the mystique of the movie star. A heady combination in a short time.
Finally, we had to bid the Con adieu. We had a steak dinner with Helen at the Red Fox, the restaurant that adjoined our hotel (which gave us a chance to escape the long waits for every restaurant within two miles of the convention center); and hit the road home.
No matter how big it gets, it's my favorite convention. Where else can you see and do all this?