Right after the Anime LA convention, Amy and I boarded a plane on January 5 and flew off for our 2008 vacation -- delayed to early 2009. We wanted to go back to Hawaii, and since we had last been on the Big Island in 1999, we decided to go back -- this time, to the Kona side of the island. That's where I'm posting these deathless words.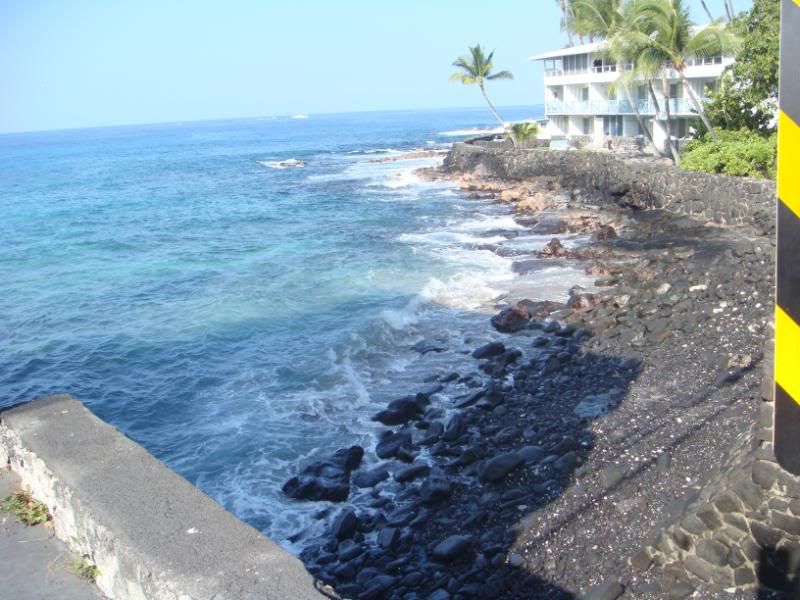 Monday was spent entirely flying to Hilo, and then driving the 100 miles from the Hilo airport to Kailua-Kona. (They don't call it the big island for nothing!) Our arrival was complicated by two factors. First, the key we were left in a lock-box would not open our unit. (That was rectified that night, thank goodness.) Second, we arrived after 9:30 pm, and discovered that most of the restaurants close up no later than 9. We ended up at the local Bubba Gump Shrimp location, which fortunately was open late.
Today was absolutely gorgeous. The temperature has hovered between the upper 60's at night and the upper 70's during the day, all with that intoxicatingly balmy Hawaiian atmosphere. The weather today was clear. We are in a second-floor condo with the waves crashing against lava rocks below us. It is stereotypically Hawaiian.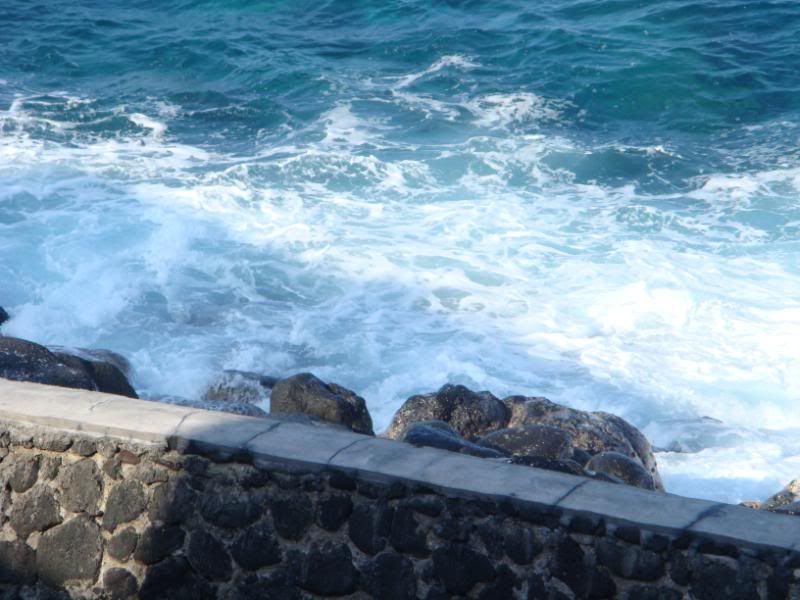 We began the day by hiking over to Java on the Rocks for breakfast. This is an alfresco restaurant/bar right next to the lava-rock coastline, with the waves crashing nearby. (It becomes more of a bar in the evening.)
I had a magnificent cup of Kona coffee, and we shared a plate of tropical fruit.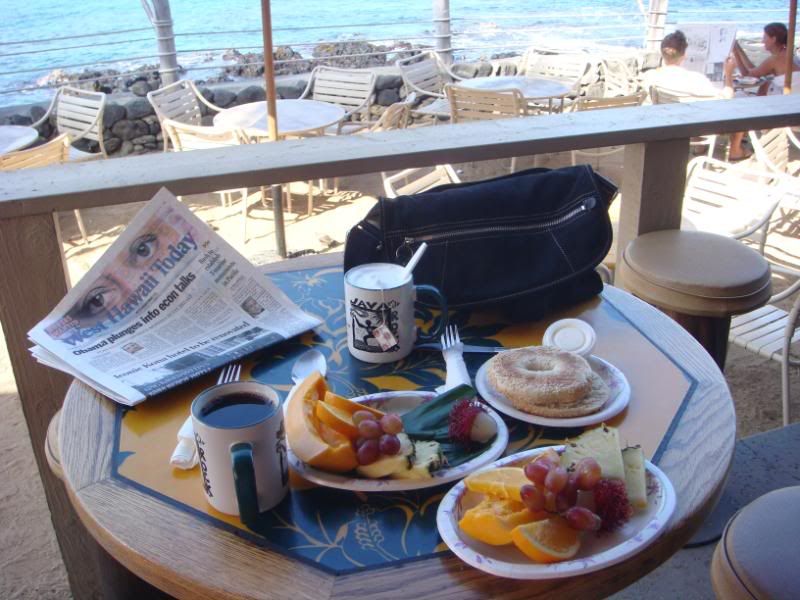 We were joined at breakfast by an inquisitive gecko, who walked around on both Amy and me.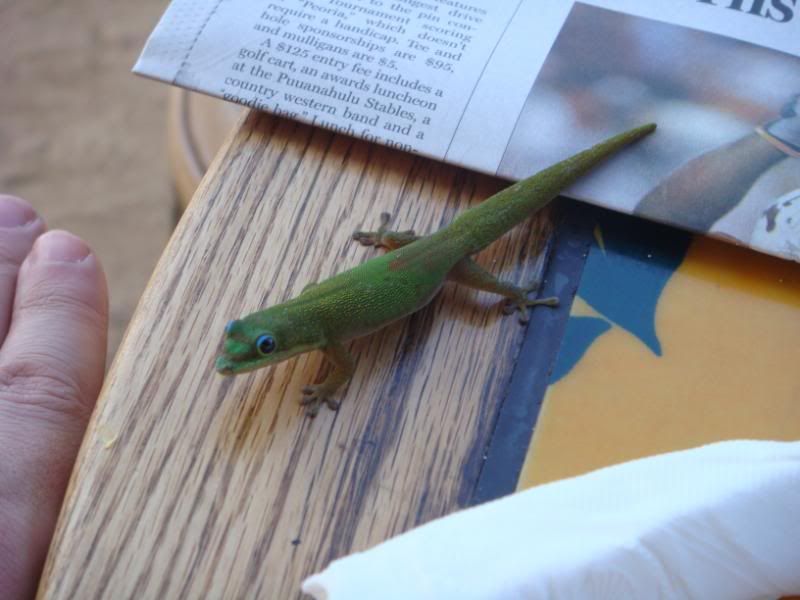 We then walked the rest of the way into town, and prowled the shops. I had an ulterior motive of replacing a long-billed baseball cap I bought in Kona back in 1999. The hat had blown into the Pacific the last time I visited Hawaii, in 2006. But long-billed baseball caps have passed out of fashion; the store where I bought it didn't have any. But I did buy a different hat, a pair of Crocs, and an aloha shirt (I have so many of those that a shirt must really speak to me to be selected). We had lunch at the Kona Canoe Club, overlooking the bay; and damned if we didn't see dolphins leaping and spinning in front of us. Talk about putting on a show for the tourists . . . .
We rented bicycles in town and rode them back to our complex, after signing up for a few activities (nimbly dodging the offers of discounts if we merely devoted a few hours to time-share presentations). We then walked to Lava Java for dinner. LJ is a wi-fi watering hole plus; it serves up not only coffee, but breakfast, lunch, dinner, and dessert. I had a delicious mahi mahi entree in some kind of sweet coconut sauce. We then walked into the center of town again and back to the complex. All together, we walked three miles and bicycled another mile, not counting the walking around we did in town. Got to burn off those calories . . . .