Nippon 2007 is not only the first World Science Fiction Convention held in Japan; it is the first held in Asia. Hence the very real tears of joy shed by the con's fan guest of honor, an octogenerian who held the first Japanese science fiction con 45 years ago. During the opening ceremonies, he said that his health was not good; but that this nevertheless was the happiest day of his life.
The spirit of Japanese science fiction fandom was very much in evidence on the first day of Worldcon. My fears that this would simply be an American Worldcon transplanted were belied when I saw the masses of Japanese fans (this is the annual Japanese national SF convention, along with the Worldcon) greeting each other. Nor were these all the stereotypical male Otaku. "
Watashi da!
[It's me!]" yelled an attractive Japanese woman to a man walking toward her in the lobby outside reservation. "Whoa!" he yelled in reply, and the two did a flying high-five.
Possibly the event during the day that best showed the meeting of Eastern and Western fandom was when a woman in a black gothic outfit, with a key turning in her back (along with two impossibly cute little girls in kimonos, each with keys turning in their backs), was passing out flyers for a cosplay cafe.
An American pulled out his iPhone to take her picture.
"Aaah!" squealed the woman, and several male and female Japanese fans nearby. "Iphone!!!"
"First time you've seen an iPhone?" I asked one of the female fans, in my broken Japanese.
"
Hai
," she replied. "
Firsto Contacto
!"
As for us, we started the morning of our "first contact" with Yokohama in our now customary way first day in Japan -- we sought out breakfast at a nearby cafe. Thus fortified, we walked along several moving sidewalks and through multiple malls to the Pacifico Yokohama convention center. This is a perfect place for an SF convention; it looks astoundingly futuristic, with its huge wedge- and obelisk shaped buildings, side by side with a gigantic ferris wheel that sports a huge digital clock, and that strobes rainbow neon colors at night.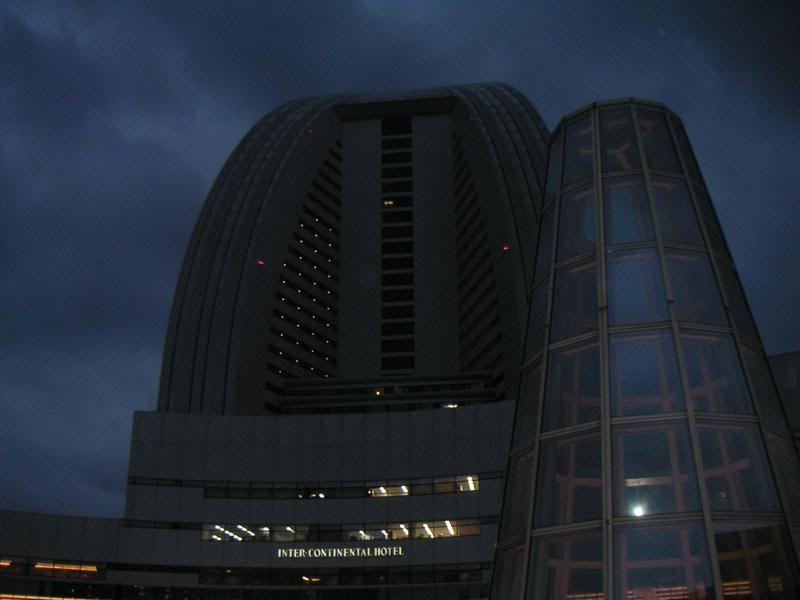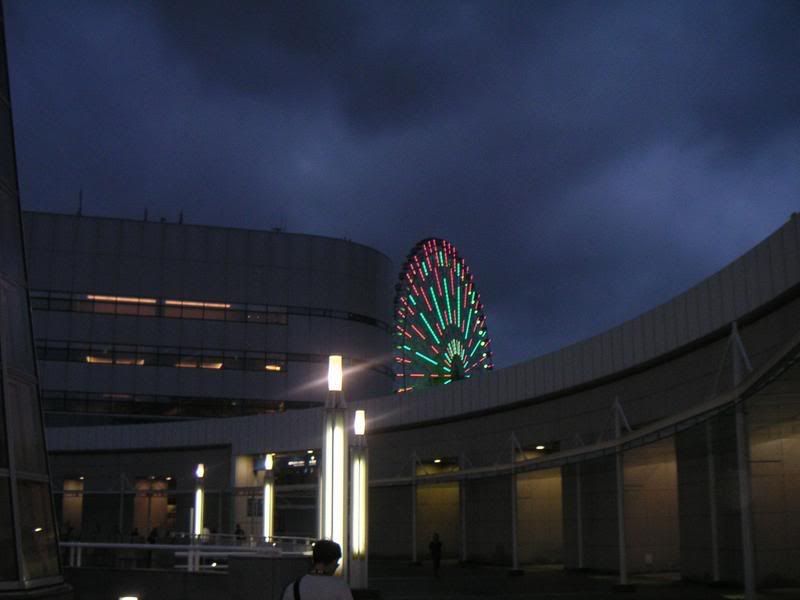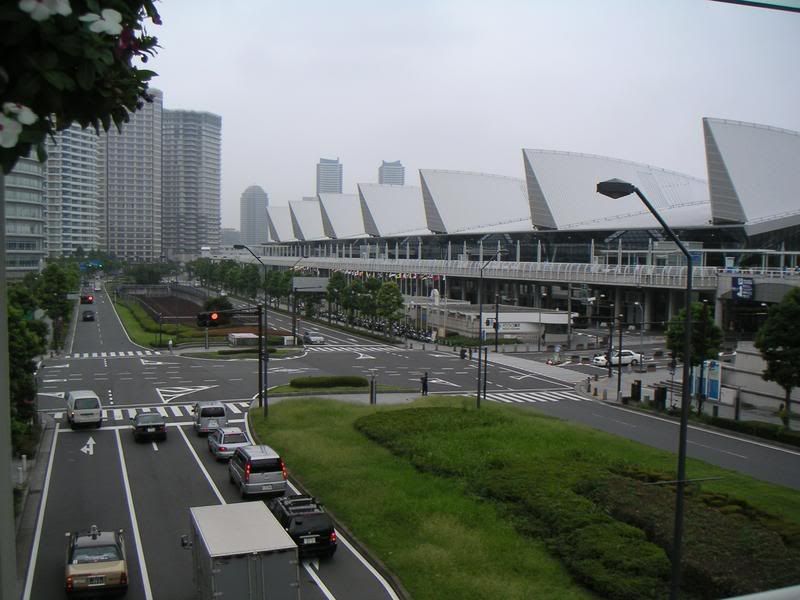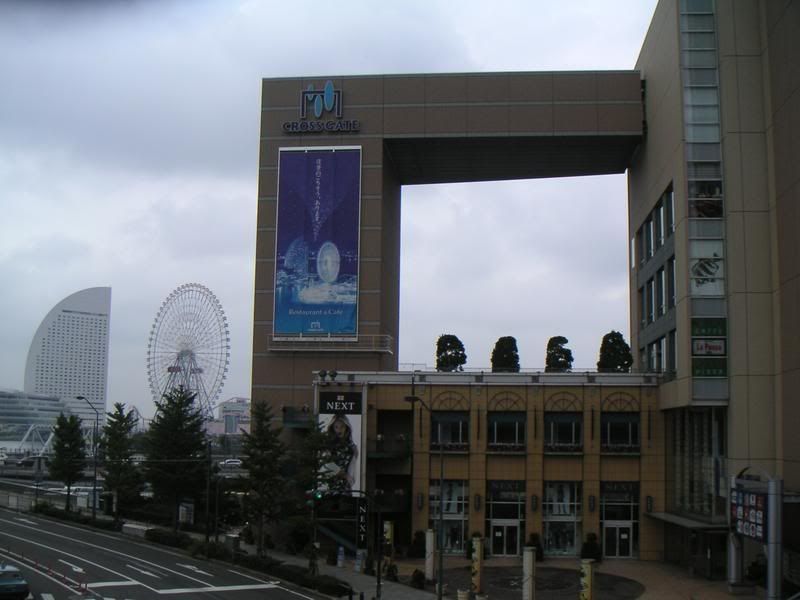 At registration, we saw Dave Howell, the guest originally from my hometown (who greeted me with, "I was told you would be here") and various other folks from Los Angeles. After a nice lunch at the cafeteria upstairs (where you choose your lunch entree from a vending machine, get a ticket, and bring it to the counter for your dish),
we went to our first panel -- one all in Japanese, featuring manga artists from the magazines YOUNG KING and YOUNG KING OURS. By our "skill" in playing rock paper scissors, Amy and I each won a sketch done at the panel. Amy got one of a girl in Chinese clothes and hairdo drawn by
Ooishi Masaru, who writes and draws "Aqua Planet Chronicle" for YOUNG KING OURS; and I got one of the Starship Enterprise, drawn as a giant cat, drawn by an artist named Monmau.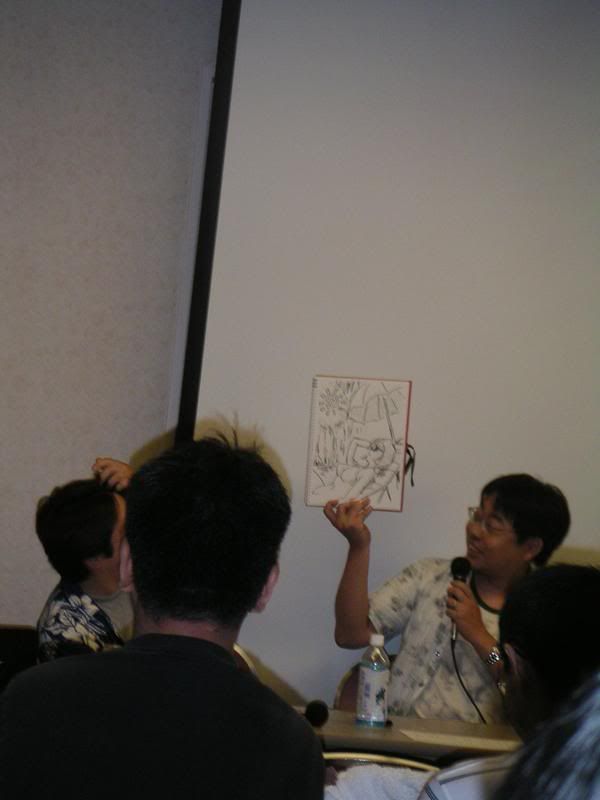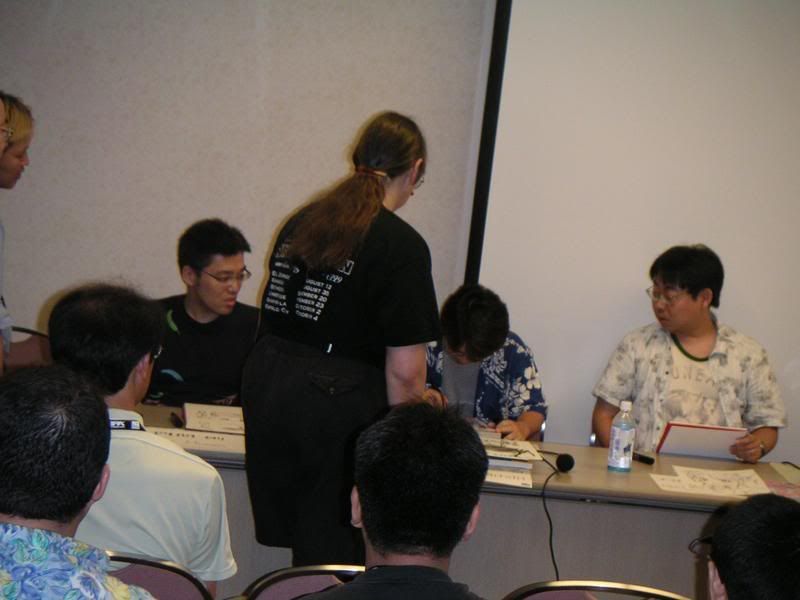 Amy went to panels on proper wearing of kimonos, and on Japanese swordmanship. I went to a panel on recommended Japanese "slipstream" SF writers (unfortunately only one author named has had books translated into English -- and only her mysteries, not her SF books) and a packed panel on anime and manga. One of the speakers at the latter panel was a blond Russian young woman who had moved to Japan to train as a voice actress for anime. She began speaking in English, but found it difficult to express herself -- so she switched to fluent Japanese, which the panel moderator translated.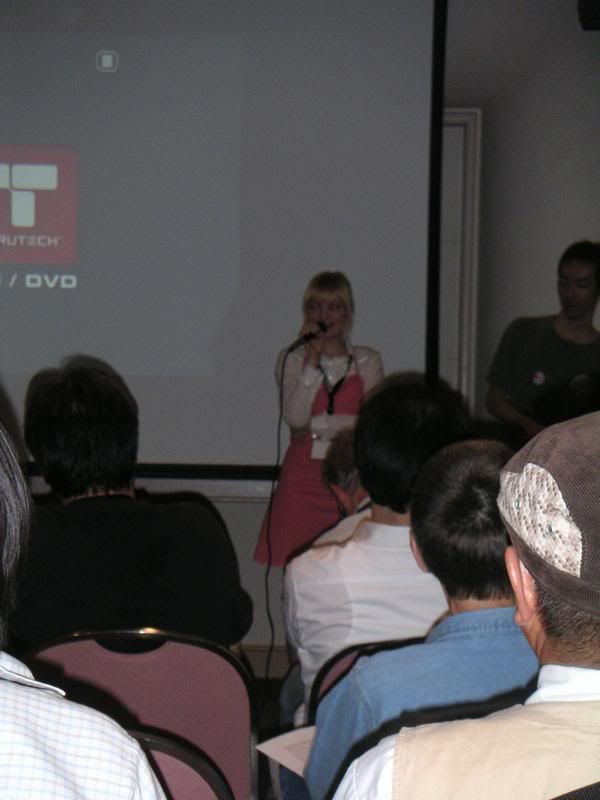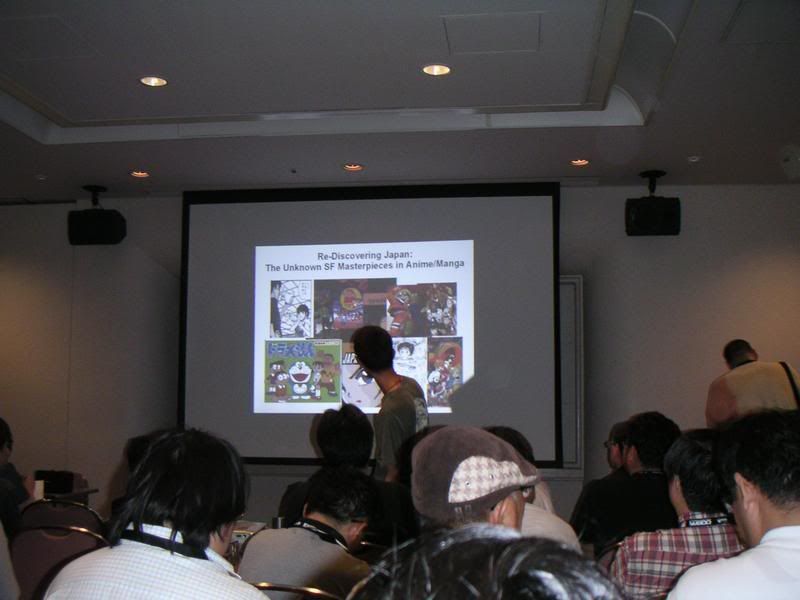 The opening ceremonies were fun. The audience at the auditorium was packed -- no concerns about low attendance at this con. The mayor of Yokohama was brought onstage on a riksha, and joked that it was part of his platform to save the environment. The western guests of honor, David Brin and Michael Whelan, each managed to speak some Japanese during their speeches, to the delight of the Japanese fans.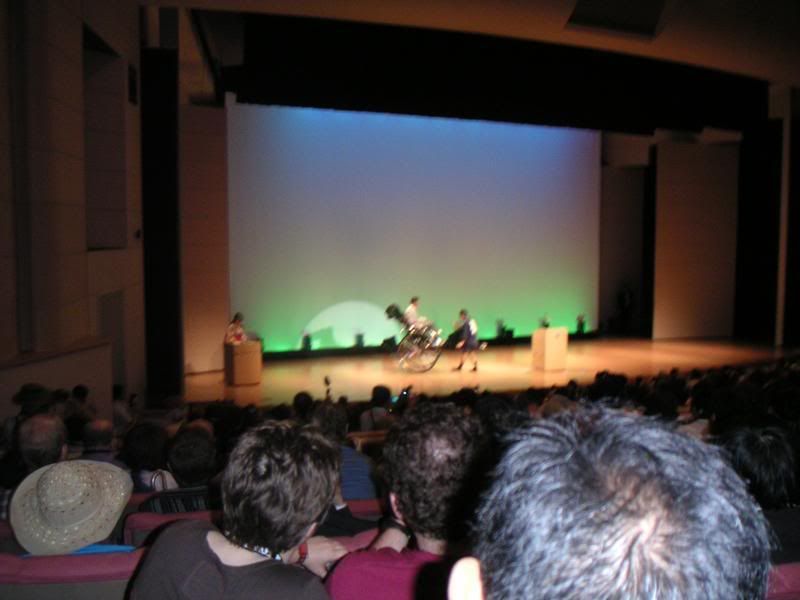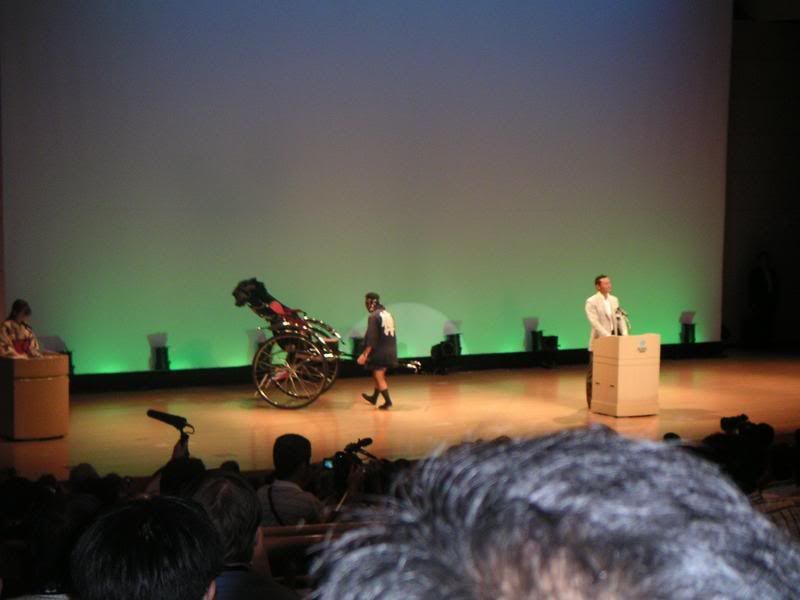 Dinner was at a lounge where there were no English menus, and the waitstaff spoke no English. My meager Japanese skills proved inadequate to translating the menu, and we relied on the photos in one section of the menu. I did all right with ordering, but had a bit of a problem with letting the waitstaff know I wanted the bill. I'm going to carry the phrase for that around in my wallet; maybe I'll actually learn it by the time the trip is over.

More photos are up on Photobucket here.